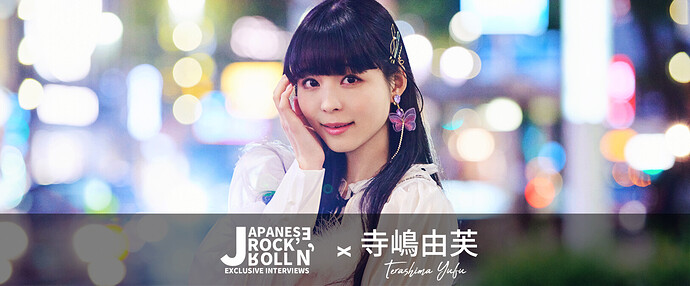 The catchphrase is "I'm from the good old days. Serious idols, serious idols."
Her nickname her is "Yuffi"
Yufu Terashima is also known as an intellectual idol who graduated from Waseda University.
Currently, while continuing her activities as a solo idol, she has begun a new stage in her career, using her intelligence to create the ideal idol.
In the Corona disaster, she is attracting attention as a key person who will break new ground not only in the idol industry but also in the entertainment industry as a whole.
Thank you very much, Yufu Terashima, for taking part in this interview.
Read on:
On December 16, 2020, you released a double A-side song, "Minna Maigo/ Atarashii Watashi (みんな迷子/あたらしいわたし)". Please tell us about the concept of both songs.
Both songs are created with the hope of showing a "new Yuffy". In "Minna Maigo", which features Matsui's beautiful lyrics over Yamakawa's bewitching melody. We challenged ourselves to write a song about mature love, which nobody ever has done before. Also, in "Atarashii Watashi", I sang about how I changed my mind after becoming a freelancer last summer, and I hope I can encourage those who are working hard in a new environment.
Is there any genre of music you would like to challenge in the future?
The songs that I have released recently have been cute and gentle, so the staff and I have been talking about how it would be nice to have some more intense, rock-style songs.
What kind of music do you usually listen to?
I choose to listen to idol songs, I also love many songs by B'z, but lately I've been leaving random music playing on my subs because I want to learn more.
How do you feel about performing without an audience at the Corona disaster?
At first, I was a bit confused and lonely, but since I can't stand the fake cheers and such, I feel that I have to be more precise in my performance, and I know that I still have a lot to improve in terms of my camera image. But it's fun to work on it.
Do you have any mid- to long-term goals now that there is no prospect of the Corona disaster being resolved?
It's hard to see what the future holds, but I'm trying to prepare for the future so that I won't miss out when the situation improves (there's still a lot I can't say♡). On the other hand, I am also conscious of not losing my mind and activities even when the situation gets worse.
You have been actively holding online off-campus meetings, how do you feel about the response from your fans?
After a year, I think there are two types of people: those who are happy and those who think that online is not enough. Online events allow us to communicate with people from anywhere in the country, and sometimes we even have participants from overseas, which makes me very happy and happy to hold them. I'm very happy to be able to hold these events. I would like to continue to devise content to respond to the feelings of "field-oriented" people.
What does the entertainment industry, which is in a difficult situation due to the Corona disaster, need right now?
I think it's necessary to create rules, or rather indicators, based on an understanding of the field. I feel that the more cautious the management is, the longer they will be in financial trouble by voluntarily refraining from holding events. If more detailed rules that match the actual situation were created, I think it would be easier to create indicators and move on while ensuring safety is being maintained.
The anime/manga Kimetsu no Yaiba (鬼滅の刃) has been a big hit. How do you analyze the factors behind its success?
I think the fact that there are so many unique characters and it is easy to choose your "favorite" is similar to the group idol boom. I also think that the main characters' attitude of believing in others, that "even if I can't defeat the demon on my own, someone else will connect my feelings," resonated realistically with people in the wake of the Corona disaster, where there is nothing they can do on their own.
You are also active in the Idol Quiz Championship. Do you have any preparations in advance?
I usually practice with quick push quiz apps and study quiz drills, but when the actual competition approaches, I use the Instagram Stories function to ask otaku friends to submit questions for me to study in order to prepare for current events, which I am not good at.
I heard that you like to read, what kind of books do you usually read?
I read books that people recommend to me, books that are popular on the Internet, and books of any genre that catch my attention. Recently, I was shocked by Aoko Matsuda's "Jizoku kanouna tamashii no riyou".
Your 1st artist book "まじめ(Majime ->Serious)" was released last year. Your attempt to publish your thesis from Waseda University is very innovative, how did you come up with this idea?
I was hoping to create an opportunity to read it somewhere someday, and my wish came true…! First of all, I wanted to let people know what I think about "yuru-chara" and "idols," which I love, and hope to increase the number of fans of both. The other reason is that when I graduated from university, I wrote my thesis, which helped me decide the direction of my future idol activities. I wanted to share it with all the "yuffist" who are supporting me, so I asked them to publish it.
Each of your official goods, such as pillowcases and mask cases, has its own unique style, but if there are any goods that you would like to recommend, please let us know.
Since I have been spending more time at home, I would really like people to enjoy my pillowcases and other goods that are unique to home. I've been using BASE since I became a freelancer, and it's really fun to be able to reflect what I want to do and the goods I want to produce in real time. I also do sell a Blu-ray of my solo live performance last summer, so I hope you can enjoy it at home.
Your new LINE sticker, "hedgehog "harikirinezumi" has been very popular, actually JRNR been using it ourselves too. Can you tell us how this harikiri-nezumi came to be?
I like to post loose illustrations that I draw with my fingers on my Instagram Stories, and I've been drawing and updating them every day. I started drawing illustrations of words with rhino in them and posting them on Instagram Stories. After a while, I decided that I wanted to make a friend for Sai, so I came up with the idea of "harikiri-nezumi", a hedgehog who is very enthusiastic about puns.
Do you have any advice for people who want to become idols?
It may be hard to imagine being an idol right now because of the Corona disaster, but I feel that this will lead to a general shift to online activities, and the regional disparity in idol activities will decrease. I hope that this will create more opportunities for people who don't live near major cities like Tokyo. I hope that those of you who feel that you have many barriers to overcome will not give up and grab the opportunity if you have the will to do so.
Do you have a message for your fans and readers?
This spring, I'll be going on an acoustic tour in four cities across Japan. In the past year, I've had an overwhelming increase in the number of live streaming events, which has allowed me to communicate with people living outside of Tokyo more than ever before. I'm looking forward to finally meeting everyone I've made friends with online. This will also be my first tour with an acoustic band, so I'll do my best to deliver what I've been preparing for while we've been away! I also want to hear how everyone has been waiting for me. I hope to see you all in good spirits!
Yufu, thank you very much for this wonderful interview! Please keep the great music going!
Interview by: 珠城 悠 (JRNR staff)
Translated by: Ryu (JRNR BOSS) & cherrylng (JRNR staff)