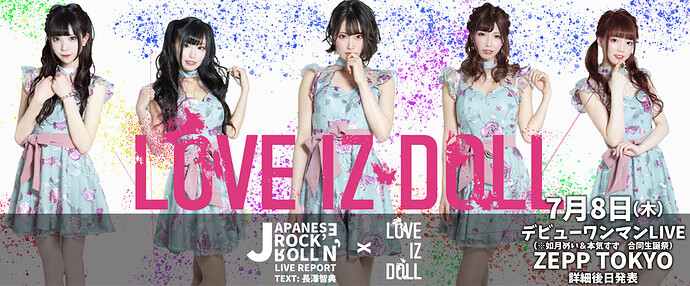 Shocking! LOVE IZ DOLL, whose members are all new to the world of idols, announced at their debut live show that they will be holding a solo show at Zepp Tokyo in 4 months! Are they serious?!​
LOVE IZ DOLL was born with the concept of "life-sized dress-up dolls." On March 7 (Sun), they held their debut live at Akabane ReNY Alpha, as the last act of the day.
They opened the show with their song "BE LOST" to gently open the door of everyone's heart. The five members sang with sad voices as if they were spilling out the pain of love they carried within their hearts. The very first thing LOVE IZ DOLL showed to us was a lost and confused shape trying to get out of the maze of the heart. The painful and bitter heart of a maiden in love which goes through the feverish voices of five people is not just seen as something sad. It is also seen as a "strong will" to change the situation from here.
Please continue to read it on;