After 20 years, D will go on hiatus after their 20th anniversary tour final in March 2024.
That's fine. See you next year kings.
not at all shocked. tbh more surprised they lasted this long
Hope to see you back, kings
I'm not sure really how to take this news. I'm still stewing on it. I hope they come back.
Tbh, I stopped caring about them around the whole Wonderland era. And I feel the same is true for a lot of people, their popularity and relevance really took a nose dive around that time.
They used to play much bigger venues as well, if I am not wrong, so this isn't limited to us stoopid gaijins - really looks like they lost something in their music that fans cared about. Maybe taking a pause is a good thing for them to -hopefully- come back stronger and with better concepts. I tried to check out their recent stuff and it felt largely uninspired and out of steam.
That said, it's truly remarkable how long they managed to last, especially considering that their particular style of VK isn't rally that popular anymore since maybe a whole decade.
I said it in a different thread, but I think bands like D and Merry, who are still kicking around after all this time are simply prey to the fact that their fanbases have moved on in life. Fans of old are simply too busy with careers, family, etc. to attend lives like they may have once done as teenagers or young adults, or even keep up with releases as time goes on.
Newer bands are appealing to newer fans, while older bands that rely on the support of their older fans are dropping off as their fans leave the scene for other interests. Nonetheless, it's certainly sad to see.
Probably necessary.
I'm gonna go spin The Name of the Rose and remember the good times.
they need to do it nightmare style - take a break from performing, freshen up, and go back to basics.
their wonderland era was the weirdest lowest point for a legacy VK band I can think of, and the odd europop synth influences in the recent music sounded tacky when thrown on top of otherwise decent stuff, but I hope they can recover. Asagi's solo is good, but he doesn't release nearly as much to really follow him.
I'm not really surprised either, but still sad to hear! Also crazy to think they started their activities not long before I got into VK and been around all this time…
Hopefully they can recharge their batteries for later.
They annouced hiatus long time ago already no ? A necessary hiatus.
I heard Asagi solo career and his last album. I felt it sounds more interesting than recent D.
Moreover, Tsunehito is one of my favorite bassist. An inspiration, his basslines are insane. I'm curious of his future too…
Had no idea they even were active again.
I hope they come back soon
It was bound to happen. The legends will return soon the. This honestly isnt the first hiatus but this one has me a bit worried
You will be Missed Kings T_T
their new single, "シュヴァルツヴァルトの獣" (Schwartzwald no Kemono) will be released on 7/29 (being sold in advance at 7/15 at 新横浜 NEW SIDE BEACH!!) in 2 types.
The special limited edition (3850 yen) will come with a booklet and self-liner notes, and will be sold at lives and official webshop only.
A complete set of both editions is also available at their webshop in limited quantities for 8500 yen and it includes a 5-piece set of autographed cheki from the MV shooting.
[tracklist]
[CD]
シュヴァルツヴァルトの獣
ヴァイスヴァルトの花嫁
禁忌の森 (Instrumental)(regular edition only)
[DVD] (limited edition only)
シュヴァルツヴァルトの獣(Music Video)
シュヴァルツヴァルトの獣 (Music Video Making)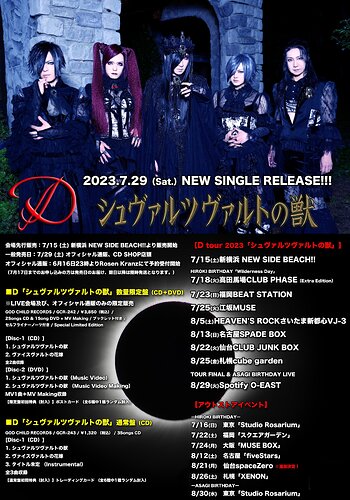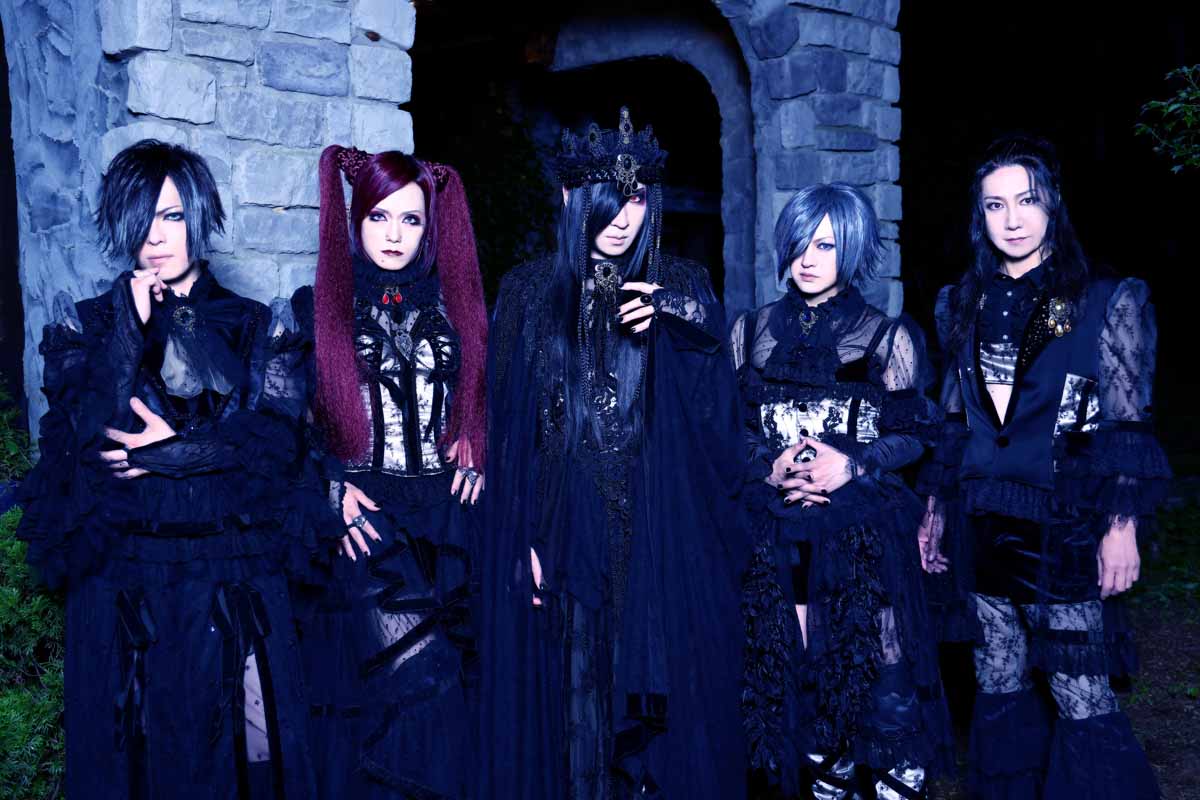 We're going on hiatus. Oh by the way, here's a new single.
Ngl, this looks and sounds fine!!