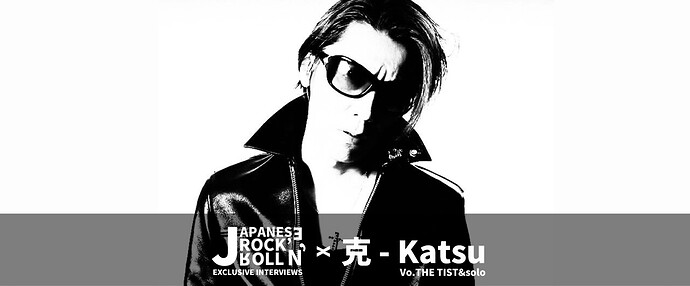 Katsu, thank you very much for letting me interview you!
・ Please introduce yourself (Solo works) in a good length paragraph.
I'm Katsu, a singer from Nagoya, Japan. I started my solo career around 2009 in parallel with my band activities.
・ Please introduce THE TIST in a good length paragraph.
Formed on November 18, 2002.
JAPAN TOKYO CITY ROCK BAND
・Can you show us your band's name (THE TIST) in a single character in kanji? And why did you choose this kanji?
Charming(艶), isn't it? That's what I've been told by the audience at our live shows, and that's what all the members of the band have been like.
・ What is the one character in kanji to show yourself? And why did you choose this kanji?
Heat (熱), I guess. For better or worse (laughs)
・ How was THE TIST formed and how do you know each other?
I've met my bandmates in various ways.
The story behind the formation of THE TIST is that in the winter of 2000, I decided to start a band the way I always had in mind and started writing songs, and our first live performance was on November 18, 2002 at the now defunct Ebisu Guilty. I remember it well. It was a ROCK'N'ROLL, ROCK-ABILLY type event. More than 18 years have passed since then. Time flies, doesn't it?
・ Why did you decide the name "THE TIST"? Please tell us the origin and meaning.
It was just inspiration. After a rehearsal it was decided together with the drummer for the early days at a small pub in front of the Ebisu station. I think it was around 2001. Later on I discovered that it also means "existence", so I feel happy that we chose it as a name.
・ Why did you start your own label "Black Maria Records"?
It's very easy to start one and manage it yourself, also I can move quickly when I want to release a new album, and there are no unnecessary restrictions.
・ Why did you decide the name "Black Maria Records"? Please tell us the origin and meaning.
It's like the name of the band, it is an inspiration.
・「Emergenza Music Festival Japan final finalist & Peoples Records GP winner」could you please tell a little bit more about these two happenings?
Emergenza Music Festival was a battle of first stage, semi-finals and finals, and it was great to be able to challenge how far THE TIST could go. As a result, we won the first stage, won the semi-final stage, and we won the final stage at Shibuya O-EAST. It's a good memory. But it's all in the past now. Still want to say a special thank you to everyone who came to the show.
Winning the Peoples Records Grand Prix was the first result we got with the early members, so it was a moment when we felt we had something to show for it. I think THE TIST has evolved little by little since then.
・What brought to you being a musician? Which musician inspired you?
I guess it started when I was about 16 years old and still living in Nagoya. I remember faintly that I wanted to be a musician. At that time, I was working at an American fashion store in Osu, and I was influenced by foreign ROCK'N'ROLL and fashion. Also there's a music venue called ELL and a record store called Disk Shop near the store I worked at which I visited often. Sometimes I would go to LONDON NIGHT in Sakae, Nagoya. I started to form a band with people I met around that time. I moved to Tokyo by myself at the age of 19, while I moved there I still had the desire to wish to sing.
・Which artists have influenced you?
My mother.
・Are there any Japanese artists who you are aware of?
Not really…
・ Why did you decide to devote yourself to "ROCK"? What makes this style so cool?
At the beginning I was mostly attracted by it because of the rebellious spirit of ROCK. However that has changed a little bit now. Right now the most attractive thing about ROCK is that you can expose your feelings at any time and way you want.
・As the genres of music become more and more diversified, many bands and songs that incorporate various elements have been born. Are there any genres that you would like to introduce or challenge in the future?
I want to sing a song with the background melody of a piano and/or keyboard. I'm also interested in creating a song with the melody of a violin.
・How would you analyze the garage rock scene in Japan?
I hope that the garage rock scene will remain in Japan for a long time.
The music includes the language of Japanese rock which makes this genre wonderful.
・ What's the most fun thing about playing lives?
It's fun… But when I am singing my head goes blank. So when I'm performing, I'm so focused on singing that I don't have time to enjoy it.
・ In all those music years, what's the most valuable memorable memory?
LIVE of 2015/9/11 at Shibuya Club Crawl
【Walter Lure Band featuring Sami Yaffa】
– JAPAN TOUR 2015 day2 –
THE TIST was the Opening Act
Walter Lure
(Johnny Thunders & Heartbreakers)
Sami Yaffa
(Hanoi Rocks, Michael Monroe Band)
It was impressive to be able to co-star with them.
After the concert, Walter patted me on the shoulder in the dressing room and said, "GOOD JOB". His words really made me happy!
・ You've been in the music industry for a long time. What is the turning point between your early music activity and its latest?
Maybe it's that I've become kinder. I've also become weaker at drinking. (laughs)
・ What is the most difficult point of being a musician?
How to switch your own feelings.
・ You said on twitter that you want to release a new single or album. What can we expect? something similar to the past releases, or will you surprise us with a brand new sound?
My base is ROCK'N'ROLL and blues, so I would like to express myself with my own words and sounds while keeping that in mind more than before.
・ Do you write lyrics with a real message? Or do you sometimes write lyrics without meaning to it?
As for the lyrics, there are many ways to receive them, and I hope the recipients will decide for themselves. That is also my inspiration.
・How do you create a new song? Do you write the lyrics first? Or do you write the "melody" first?
I create the melodies first. When I play my guitar the melody flows out naturally.
・ What makes a song a good song?
There are songs which let you feel nothing during a live performance, and there are songs that don't remain, such kinds of songs are useless. You better stop performing those songs when the audience doesn't like it.
・Please tell us about your musical style. What is special about your style?
I guess those who listen and watch my live shows are those who can tell that the best.
・ You released various CD's in the past. Could you please list up what you have released so far?
"THE TIST"
Peoples Records Grandpix Winner
2nd Album – "ROCK N ROLL SISTER" spotify
TOWER RECORDS NAGOYA PASS SHOP
J-ROCK category※ Monthly sales ranking 1st.
1st Album – "Sentimental Rubber Sole" spotify
TOWER RECORDS SHIBUYA STORE
J-ROCK category※ First appearance 6th place.
Maxi Single – "SHE" spotify
Single – "Ruby" spotify
Single – "紅い華" spotify
"克SOLO"
Maxi Single – "Voice"
Single – "DEEP SEA-光のある方へ-" spotify
Single – "GET OUT CHEAT DOG" spotify
Single – "黒塗りのRUDE" spotify
Single – "LAST CANDY" spotify
NOTE: Spotify Playlist
NOTE: THE TIST Online store & streaming
NOTE: You can grab it digitally via: THE TIST
It's also sold on Japanese websites, please search on those websites if you prefer those.
NOTE: Check on your favorite platform if you can find it, usually it plops up if you search with his Kanji "克" or just if you search by "Katsu"
・Currently we still live in the world of corona. It's a truly hard time for artists. How do you deal with this situation?
I think it's important to keep on being motivated.
There are restrictions on my activities, but I can still be creative.
Recently, I've been making demos with DTM, and I'm enjoying it to a certain extent while thinking about the future.
・ Outside of music, what are your hobbies that you do in your free time?
I love cooking. My specialty is curry rice and Naporitan spaghetti (laughs)
・ What makes you smile?
The smiles of my friends.
・As a musician, if there was one thing you want fans to remember (some words of wisdom), what would it be?
Please take good care of yourself.
・ Are there any artists you would like to collaborate with?
I like to collaborate with any person who is excited to create music, the genre doesn't matter when the excitement exists, then I think it would be fun to collaborate.
・Are there any kinds of artists you would like to produce music for?
If I had to choose, I guess it would be interesting to have a female rock singer, singing my songs that I've composed.
・Are there any artists you would like to ask to produce music for you?
At the moment I don't look for someone to write music for me. But I am interested in having someone to mix my sound. If anyone is interested in mixing, I'd love to hear from you.
・Do you have any target artist which you would like to get parallel with?
I don't really have anyone in mind as a target.
・What is your biggest goal for the future?
To keep singing as long as I'm alive.
・Please give a message to your fans and readers.
THE TIST and also my solo activity, it would be great if you would check it out!