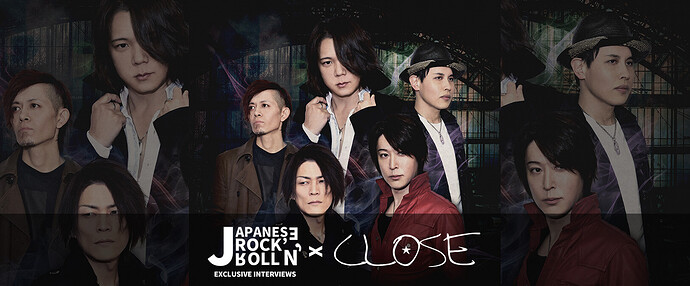 You also can read a French translation!
Also check for links and extras the interview on jrocknroll.com!
Interview with CLOSE – JROCK'N'ROLL
— Nice to meet you all! First of all, how are you all doing? Are you still feeling alive in this pandemic time?
We are all doing well, also big thanks to everyone who supports us in this difficult time. From CLOSE's point of view, there are times when we can feel happy when we are in contact with our fans who are always supporting us, such as at live performances and events, but in the current world situation it is very difficult to meet that way. It's difficult to say when we are even able to hold a LIVE again even though we have decided to RESTART our activities. So, the times we feel happy is when we feel your reaction to our songs we write and play to everyone, and when we get reactions if we release a new work. Now, unlike in the past, we can see everyone's reactions directly via SNS and it feels very encouraging to see everybody's reaction in just a few minutes after a song has been delivered online.
— Please introduce yourselves. What's one word you would use to describe yourselves?
NAOHIRO: I am NAOHIRO, the vocalist. After CLOSE disbanded I have done various music activities, but there was also a time that I didn't stand on stage for about 7~8 years. Right now, I'm also in a band called "Mitsurugi". As for a word that expresses me? I would say it would be "My Pace", I've always been taking it at my own pace. (laugh)
TAKESHI: I'm TAKESHI, I'm the bassist. If I would describe myself in one word I would say it would be "Lubricant" and "contact revival agent".
KOUJI: I'm KOUJI the guitarist. My position on the stage is on the left. If I would describe myself in just a word for CLOSE I would say "Motion"
KENJI: I'm KENJI the guitarist. I mainly write lyrics and compose songs.
RYOHEI: I'm RYOHEI the drummer. I am a kind-hearted leader-like person. (laugh)
— Why did you want to become an artist?
NAOHIRO: I have been familiar with music since I was in elementary school, back then I was learning how to play the piano. Still, I hardly had the habit of listening to music until I reached puberty. A friend recommended BOØWY to me, and I was struck by their sound. That's when I started to think, "I want to be in a band!".
TAKESHI: It was more than 30 years ago, during the "band boom" period, when POP culture was on the rise, and I was in junior high school at that time, so I naturally fell in love with it. Popular band names spread around the school. And would you just listen to music or would you also start playing music? Well it branches off, but I was the latter, and that's how it all got started.
KOUJI: I saw a lot of music videos of rock bands on a TV program called "MUTMA JAPAN" broadcasted by TVK in Kanagawa. I remember that I thought "I wanna do this myself", and so it all started.
KENJI: I was a teenager who longed to be a guitarist. I liked the idea that you could create something from nothing, so I naturally began to write my own lyrics and aimed to become a musician.
RYOHEI: When I was in junior high school, I was asked to join a band.
— Why did you decide to restart CLOSE?
Some of us were busy with all kinds of stuff, however, it was not all totally with music, we walked a totally different path. KENJI was triggered by NAOHIRO, who returned as the frontman of "Mitsurugi". We went out drinking with KOUJI and out of nowhere, the topic of "Let's do CLOSE again" came up, and from there it became more and more of a reality. It's been a long time since we first started talking about restarting the band, but we're not going to talk about that because we could write a novel about that story.
— Please tell us how each member met and how CLOSE was formed.
Except for RYOHEI, the other members are all seniors and juniors of the same high school. When we formed the band, we had another drummer, who was also of the same high school. Due to various circumstances a member change happened and RYOHEI joined us. Actually he was a drummer of a different band (laugh), but for various reasons he left that band and became a member of CLOSE just at the right time.
— Do you mind being called a Visual Kei band? Or do you dislike it?
We have been a visual kei band in the past, but now we are all in our forties. (laugh) If people say that we are a visual kei band even at this age, we feel grateful that we are seen as cool old men. (laugh) Well in short, we don't mind!
— How do you get the inspiration for the lyrics?
KENJI: I am often inspired by what I feel and think every day. I am also attracted to the beautiful "Japanese language", which has beautiful sentences and expressions.
— What's your favorite CLOSE song?
NAOHIRO: If I really had to choose I would say "Kesenai Kimi no SILHOUETTE" and "Sayonara no Koushin". Because I like our songs which are a little sad. However, I pretty much like all our songs.
TAKESHI: "Sou" and "One in a Million". Both songs are my boom right now. As for songs from our past releases, they are newly discovered while playing them now together. But to be honest, my boom changes depending on the time, but currently it is these two songs.
KOUJI: I have many favorite songs, but currently if I would need to choose a song to perform live my first choice would be "tomorrow".
KENJI: Everything.
RYOHEI: I like "I believe".
— The new single "So" has been released. How was the production process?
KENJI created a demo of the song, but it happened that the song had a full "CLOSE" atmosphere. Everyone said "Ohh! it's CLOSE!" From there each member's arrangement was added to the song and the song felt "finished". we're sure you'll be delighted with the nostalgic yet new songs of ours, with the exact same CLOSE feeling from the past.
— Could you please explain the composition and lyrics of each song?
By KENJI
・ 想 ・
[COMPOSITION] The last song of our break up LIVE was "itsumademo", but if there would be a next song… it could have been this song, so I created the melody with that in my mind.
[LYRIC] The preparedness and determination to start walking again. What do you want to hold in my hands now, after letting go of everything? It's a song that reminds us of the moments that will come after a difficult time, and the things that are most important to us.
・ One in a Million・
[COMPOSITION] I included the spirit and excitement that we felt when the five of us layered a sound together for the first time in a long time. The drum roll is the keypoint.
[LYRIC] Fear in everyday life can disappear in an instant. The theme of this song is the joy of living in the same era and walking through the same time together.
— What was the most enjoyable thing when you were making "Sou"?
We all agree on this point, "I'm writing, playing, singing CLOSE songs again!" It gave such a feeling to us that it feels so right to us, doesn't it? We've spent our entire youth working on CLOSE, so it's been a lot of fun working on it again! We can't decide which part was the best, because everything was so much fun!
— Your video -Reload- is very teasing and has amazing quality. Can we expect new MV's too?
We're sure that our shooting staff will be happy to hear that! (smile) We'll be sure to pass this message to the shooting crew so that they can make another MV for us to look forward to!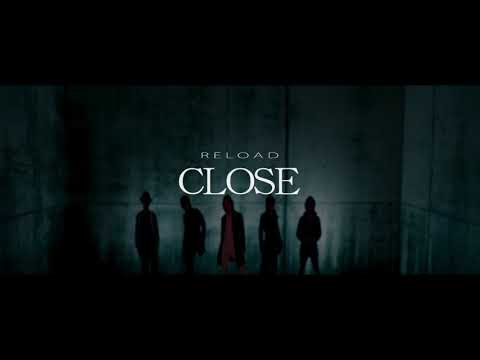 — Are you planning to release much more new music? Or are you also planning to re-release some older releases too?
By the time this interview will be published, we guess it's already noticed, but the physical version of our CD "Sou" will contain a song called "Koi no Maze" which has never been recorded before. Even since we played this time at our LIVES, many fans requested us to release it, so we guess some of our fans will be really happy that their wishes have come true!
— As the genres of music become more and more diversified, many bands and songs that incorporate various elements have been born. Are there any genres that you would like to introduce or challenge in the future?
Since the start, CLOSE has not been so particular about being just one genre, so if it suits the atmosphere of CLOSE, we will incorporate anything.
— What kind of feeling do you wish to transfer to your listener?
We live in a world now where we cannot meet, however we can't wait until we can see everyone again! When you cannot see each other, you start to feel that you want to see each other even more! It's the same as being with your lover (laugh). We hope that we can soon return back to the same atmosphere of a few years ago, where we can gather all together without need to worry about anything.
— You have been involved in music for a long time, but what has changed the most in the music industry compared to the past and now?
The things that have changed is that things can spread easily via the internet. You can experience anything everywhere. We can use SNS sites to advertise ourselves to some extent. It's a very useful tool, however sometimes information gets so saturated that it gets lost in the flowing shuffle when you only advertise a little bit.
As for music, we used to release our music as a physical release only. But now we even buy and listen to music via the internet. It's a much easier way to release and it's cheaper, but it also feels a bit of "solitaire" that our current generation doesn't have an item called a "CD". Of course we will continue to distribute via the digital way, but we also would like to continue to release our CD's physically in the future.
— Recently what kind of music would you say you're influenced by?
NAOHIRO: BOØWY, as I mentioned before.
TAKESHI: The artist I've always loved since I was a kid is THE ALFEE. Later, as I grew older, I started to prefer listening to Western hard rock music from the 70s. I like bands that specialize in guitar sounds.
KOUJI: For example, the sound is bizarre or extremely sad "it's very complicated to hear, but such songs have hidden ideas that make the sound concise", Those artists who have created such songs go one step further with their style, regardless of genre. I've been influenced by that kind of music.
KENJI: Beautiful things, things filled with emotions, humans who exude the way of life.
RYOHEI: There are many, but if I had to pick one, it would be UNICORN.
— What does "music" mean to you?
NAOHIRO: I can't say it via a "cool" way (laugh). But, I sing because I want to sing. If I'm singing because I want to, and the people listening enjoy it, then it's a win-win. So, I feel a little bit confused when some ask me the philosophical question, "What is the meaning of music?" (laugh) As the name implies, it's all about "enjoying music" and isn't that nice? (laugh). Well, I'm sure someone can tell a "cooler" story!
TAKESHI: It's a thing which is a necessity in my life. Remember "How I started my band life"? The story I've mentioned earlier in the interview, since that day I haven't had a day when I didn't listen to music, so I have been listening to music without fail. Things that are taken for granted are very important, and that's what music is all about.
KOUJI: Because I've continued my musical activities without breaks, I can say that "music is a tool that connects people with happiness".
KENJI: Whenever there are good or bad times, it's always next to you.
RYOHEI: I can't speak for the music, but in the sense that I'm a musician, I guess it's something like [pride]?.
— What makes you smile?
NAOHIRO: The support of my fans. Maybe it sounds like an overly nice thing to say, but in my case, it is true. It's a kind of "smile" and it might be a little fussy… (laugh). The feeling of when people say that they "cried" when they found out we were starting up again, is just… way too overwhelming, a heartwarming of the maximum level (laugh).
TAKESHI: To make people "happy through music".
KOUJI: When I stand on stage to play a LIVE, where I can share the music of CLOSE in the same space as our fans are!
KENJI: Being on stage and just being able to play at lives.
RYOHEI: The moments when I realized that I could become one with the members and fans through music.
— What are your best past memories of CLOSE?
There are too many memories of the past, filled with fun and painful moments, also some happenings can't just be told in words (laugh). Well, we can't decide!
— What do you want people to pay attention to in CLOSE's music?
Since before our breakup, we've often been told that even though someone doesn't know our songs, that our songs somehow feel nostalgic and easy to get into their heart. "Is it because of the singing voice, the melody line, or the arrangement?" It's not that we're aiming for that, but that's what we're creating unconsciously. I'm sure that there are elements embedded here and there that are familiar to Japanese people, so we'd like people to pay attention to those things and listen to them.
— Are you also planning to stand on stage again?
Even if we cannot do it now, we definitely gonna do it! Corona is STUPID!
— Do you have any goals for your future activities?
We will do whatever we can do with the five of us. We're gonna do something drastic and give our very best. We've come to this point, so we're gonna play it seriously! With the nuance of that, the five of us will work together to create what we think is the best.
— Please give a message to your fans and readers.
Hello everyone this is CLOSE. we haven't said "we're back" yet. But someday we are going to say it in front of all our fans at the very first LIVE we can play again!. When that time comes please say "welcome back" to us! Let's scream together! (laugh) Also we are looking forward to delivering ourselves to everyone as CLOSE again! So please continue to support us!