Today, I present you Doctor NAOKI!
He introduces his solo project GE+IM which already almost exist for 7 years!
A new album will be released this October, which you should check out for sure!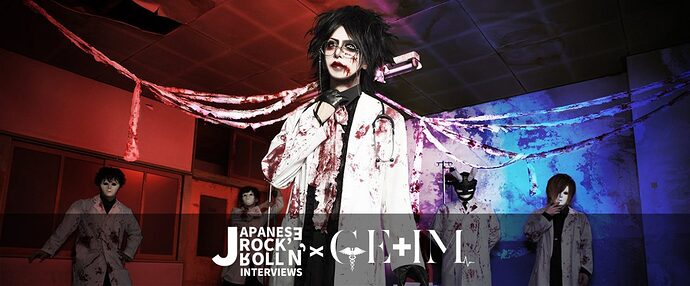 ■ Please introduce yourself to the readers of JROCK'N'ROLL.
Hello, nice to meet you, I am Naoki from the solo project GE+IM. I'm your personal physician.
■ Could you introduce GE+IM to us?
GE+IM is an "existence" that lives together with it's patients(fans) by telling them that whenever humans are beautiful, ugly, ephemeral, fragile or strong, they are favourable "human beings", because nobody is perfect and everyone has their own imperfections, which makes them all precious.
■ GE_IM theme is "crazy therapy." Can you describe some of the insane remedies you offer to your patients(fans)?
"You never know what's going to happen''. With such vague tense atmosphere, we will provide unique treatments, that's different from the common treatments.
■ In an interview of yours last year, you mentioned that it's difficult for "oversea fans" to accept the concept of a doctor. Why do you think it's difficult for overseas fans to understand it?
For example: The "sound" concept is easy to understand, because of the sounds of instruments (such adding typical Japanese elements), or the symphonic sound for the aesthetic concept. But the medical field you can't understand just by sound.
Also because my character as a "doctor" has a strong appearance, there are moments when it's hard to feel and understand the atmosphere.
If you really are interested to understand my world the deepest, I recommend you to watch my live shows and experience the feeling. But since it's difficult to come to Japan right now, I would be happy, if you would deeply study, watch and listen to my music videos and all music I release to feel the atmosphere of GE+IM.
■ Has corona affected the doctor's concept of GE+IM?
I would be lying if I said that it didn't affect me. It affected me a lot, but not music wise. There was a moment when I thought it would be inappropriate to be active. However, it would mean the end for GE+IM, as if I would be withering. So, I've thought a lot about if I should continue or not, I'm still thinking about my future a lot because of the impact corona has for bands.
■ What do you think is the appeal of the GE+IM liveshows?
It's the overwhelmingly unique world view (songs and performance) and the sense of becoming one with my patients(fans).
■ Where do you get your inspiration for writing lyrics and music?
I often get inspiration from various emotions and sounds, but I also get inspiration from my hobbies, such as watching movies and anime.
■ It will be your 7th anniversary this year. What's your secret to your long-term success?
I, myself, have been able to love GE+IM for such a long time. I'm also grateful for your love for me as well. So I still do feel the possibility to continue.
===おだいじに∞(Odaijini∞)===
■ Your new single おだいじに∞(Odaijini∞) was released in April. Could you tell us the concept and story of this song?
The concept is mentally punk. The madness and struggle of a human being who finds a ray of light in the karma that comes again and again. So the theme is "only hope" can save you. The story I leave up to your own imagination.
■ You also release a MV for おだいじに∞(Odaijini∞). Could you tell us a little bit more about the concept of the MV?
Same as above, the theme is madness, conflict and hope.
On the other hand, there is a reality, that does not change no matter how many times you reincarnate. On the other hand, there is a sense of gradual change on the inside and things look different on the outside.
I'll leave that to your own imagination as well.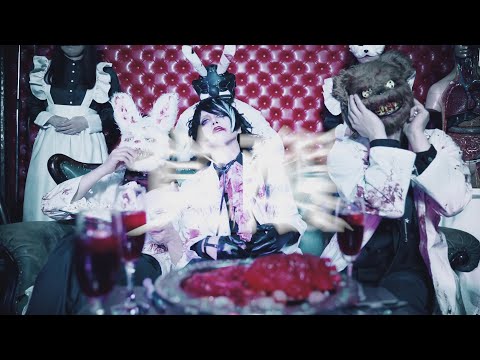 ■ GE+IM's last tour has ended. What's your best memory of this tour?
おだいじに∞(Odaijini∞) was released in April. And I was truly impressed by the wonderful sense of unity among my patients (fans) throughout the three months. In the beginning it felt as if a part of my audience felt uneasy, but after all everyone turned into my patient(fan).
==Your 1st mini-album「MAVERICK no Igaku)」will be released this October==
■ The music video of 「病院の怪談(Byouin no kaidan)」 has been released. Could you tell us a little bit more about this MV?
We filmed this music video in an abandoned hospital with no aircon in the middle of the summer. It wasn't an easy to shoot music video, but it turned out into a high-quality work.
The music video has a Japanese horror movie taste with its own unique theme. So I would be happy if you would watch it.
Another point is that it expresses a different form of "Karma that comes again and again" which turns into a different kind of ending. With that it's also linked to the "おだいじに∞(Odaijini∞)" music video.
■ Your 1st mini-album "マーヴェリックの医学(MAVERICK no Igaku)", will be released this October. What was your inspiration for creating this new release?
There are lots of humans who are initially resistant to discover an "unknown world". But I also do believe that there are many people who are interested in discovering it. The "unknown" not knowing what's going to happen, it's that kind of thing that scares you, right?
The sound of "opening a heavy door" inspired me to create this work like a polyhedron with six-bewitching-lights. The whole atmosphere is different from our album "壊レタ僕ノ劇薬10g (KowaRETA Boku NO Gekiyaku 10g)" which was released last year.
Wouldn't it be "マーヴェリックの医学(MAVERICK no Igaku)", the perfect mini-album which makes you feel curious about the "Unknown world" behind and you wanna discover it by all means?
■ With releasing this mini album, were you particularly conscious of something?
As we approach our 7th anniversary, we want to show you the world of GE+IM, which continues to evolve, while still retaining the original essence of GE+IM.
===OTHER===
■ Your 7th anniversary ONE-MAN tour will be held this October and November. Please share your enthusiasm for this tour.
This will be our second ONE-MAN tour. I wish to enjoy this tour more than last year.
Don't miss the GE+IM treatments and don't miss our new drug collection "マーヴェリックの医学(MAVERICK no Igaku)", which makes us much more effective. I would love to go with all our patients(fans) to "Akabane ReNY alha" to enjoy the tour final treatment together.
■ When do you feel happiest in your life?
When GE+IM gives treatment during our lives. Also when I'm eating something delicious such as curry or Yakiniku.
Yakiniku (焼肉): Japanese dish of grilled meat similar to Korean barbecue
■ Do you have any mottoes or beliefs as an artist?
My belief is: "Don't leave the stage until you can't give dreams to someone anymore".
■ What are your future goals for GE+IM?
It's to make new drugs(songs) that will be the trigger to be known all over the world. I also aim to go abroad someday.
■ Please give a message to your fans and readers.
I'm full of gratitude to those who always support me. Please look forward to my future activities. And thanks to everyone who read this interview until the end.
マーヴェリックの医学(MAVERICK no Igaku)
Tranquilizer
ビスクドール99針 (Bisque Doll 99hari)
病院の怪談 (Byouin no Kaidan)
痙攣、または剥離 (Keiren, mata wa Hakuri)
05.「右手にメス」を「左手に絶望」を(2022) (「Migite ni MESU」 wo 「Hidarite ni Zetsubou」 wo (2022) )
おだいじに∞ (Odaijini∞)
¥2,500(tax-in)
Will be delivered to various digital shops from October 1st onwards.