For other languages other than English please check
INTERVIEW WITH: ホンモノ(HONMONO)
By: JROCK'N'ROLL
English Translation by Ryu
(Brazilian) Portuguese Translation by Haniel
Russian Translation by Lolly
French Translation by Crimson Lotus
Spanish Translation by 2ndGale (Coming soon)
Italian Translation by JAE (Coming soon)
–>>>Other languages?-> This interview is welcome to be translated in any language! Please notice me on twitter! @jrocknroll_
Twitter:
Vo.魔訶@HONMONO_Maka
Gt.怜@HONMONO_REY
Gt.PP @HONMONO_PP
Ba.清@HONMONO_Kiyo
Dr.世界@HONMONO_Sekai
Official @HonmonoOffi
Website: https://honmono.info/
Webshop: https://honmono.buyshop.jp/
Instagram: instagram.com/honmono.info
HONMONO (ホンモノ), a visual kei band whose story still needs to start into the visual kei world. Their "Real feelings, appearance and music" are absolutely amazing. HONMONO will let you spit out all your cropped anger without the need to spit out words yourself! This with a blasting new unique visual kei music style which we haven't heard yet! So be sure to check it out!

Please check out below their own key-words before continuing to read the interview.
Catchline: Where's your real self?

Worldview: For those "PACHIMON'S" who live with their "real self" that they just couldn't express, for those who has to swallow their "real self" with a muddled smile, or for those "Pachimon's" who live with their unreasonable, absurd and unconvincing "fake self".

MUSIC CONCEPT: Complex technical riffed songs, injected with a unique visual-kei interpretation. Which creates a new (visual kei) music system.

Fan's nickname: PACHIMON (means: forgery/fakers​)
HONMONO, Thank you very much for accepting this interview!
ーーFirst of all, please tell us a nice thing about yourselves.
Of course we are very happy that we could start HONMONO together and we could face our beloved fans "PACHIMON's (パチモン)" as a band.
ーーWhat made you decide "I wanna start a band with these guys?"
We met as a bunch of "crazy guys" that really love each other. Together we want to create a band, whose style is unique that only we can blast out together. And so the most amazing musicians gathered together as HONMONO to make this happen.
ーー Your worldview is really interesting. Anyway, is there any "real feeling" of yourself which you never could spit out before, but what you spit out right now?
We always have been and will also be the voice of the "real feelings" that our PACHIMON's can't say or spit out forever.
ーーIs there any "fake feelings" of yourself which you never could spit out before, but what you spit out right now?
Of course there are many.
Maybe it's a uniquely Japanese way of thinking, however by reading the atmosphere in various situations, there are many of "those" words that we just couldn't spit out and many of "those" words that we had to swallow with a smile.
ーー Why do you call your fans "PACHIMON"? Is it to pull out their own "HONMONO" feelings?
The word "PACHIMON" is a Kansai dialect word, which translates into "forgery/fake".
With the so-called "forgery/fake feelings" that are inside our mind, which we cannot swallow endlessly, we spit out any "real feelings" instead of our PACHIMON's, who are living in pain by being unable to speak out their minds themselves.
ーー Your music style feels unique to the visual-kei genre. Is there a reason for taking a risk to "step out" the "usual" flow of the current vkei style?
HONMONO's music style is an experiment.
The basis of HONMONO's music is not visual kei, but a complex technical riffed style with various types of sounds such as metal music. We hope that our PACHIMON's will accept such kinds of genres that are still unacceptable to many Japanese people. We try that with the use of interpretations and ways that are unique to Visual Kei to make it more easy to enjoy.
We started out with music that didn't follow the style of the Visual Kei flow, and then we incorporated it into an yet unique flowing visual kei sound.
ーー What's the thing you can express in visual kei and not in any other genre?
Visual kei is the most open-minded genre in Japan.
There are very few restrictions on how it has to be, and the content is expressed through the total balance of make-up, stage performance, music, and video.
It's a genre that allows us to do and express whatever we want and whatever "feeling" we want to spit out.
ーー Your first appearance looks stunning. Please tell us more about the concept behind the costumes.
Thank you very much
However, It's not a concept, it's just that we represent "real feelings". For that reason, we wear costumes and make-up.
However, if you would like to give it a strong concept, we would say our concept would be "To make people curious about what kind of band we would be by just looking at us".
This is just the beginning, our next appearance will be even more aggressive!
ーー On October 1st, you released a mini album via digital sources. What's the reason for dropping 6 songs before the actual physical release?
Wouldn't you love to hear our HONMONO (real feelings) music from us as soon as possible?!
ーー Could you tell us a little bit more about the production process of the six songs which were released digitally.
Our first work was an exploration to the correct style.
There were many things we wanted to do musically and we had some trouble finishing songs which would fit nicely for a "visual kei band". However since each member has their own differences of styles, we feel that this release turned into a nice and fairly experimental and avant-garde EP.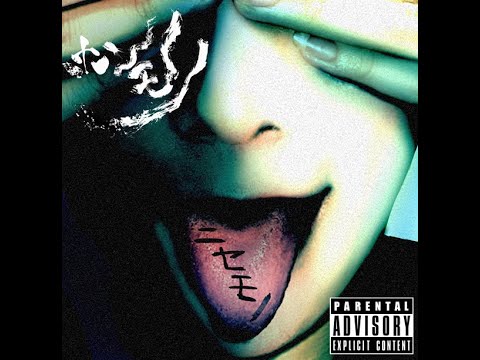 ーー Please tell me about the composition and lyrics of each song.
Firstly our single track NISEMONO (ニセモノ) was completed and from there it's derived into other songs. Each song is packed with our "Real feelings(HONMONO)".
Are you able to find all our "real feelings(HONMONO)" in each song?
ーーWhy do people need to check your digital release?
There is no force. You can listen to it if you want to, check it out if you want to know more about us. We just want to be needed by our PACHIMON's as much as possible.
■Buy or stream it digitally
ーーMaybe it's too soon to tell, however please tell your readers why they also should buy the physical version. What makes the physical release more special?
The physical CD is a creation in which all the elements such as the jacket, lyrics, CD surface, etc. are all integrated as well as the sound source. We think you can feel a different atmosphere value from the digital version.
ーー Could you maybe tell us the idea behind the jacket cover? Why is it a blindfolded face, with a tongue sticking out?
This is linked to the content of the music video.
Being blindfolded and speaking words other than one's own will, that is what "fake(NISEMONO)" is.
ーーOn the day when COPIBAN evolved into HONMONO, you've gotten lots of attention from overseas. However, lots of people don't speak Japanese. Which tools will you use to still communicate with your overseas fans?
The main contents of the release are also spread into English worldwide.
Those who want to get deeper, please learn our language, learn about the Japanese culture and values, and you will get to know and understand the "real feelings" that we want to convey!
ーー How do you wish that overseas fans would support and cheer you on? Right now due to the corona pandemic. Fans also cannot travel to Japan to attend live concerts.
Please listen to our music everyday.
We want you to get to know us better and better through our music and lyrics. And please tell your friends about how wonderful we are.
ーー Live activity will start on November 1st. What can your (Japanese living) fans expect from this live show?
We show you the answers of "What's visual kei" and "What's a live concert". We show you brand new emotions which you didn't experience before. We welcome you to the "real feeling (HONMONO)" of a swamp which you cannot escape from anymore (laugh)
ーー Live streaming is getting more popular, would you consider streaming your oneman live on January 17th? So that also the overseas world can enjoy this moment?
We'll consider it.
ーーWhat's the most wonderful thing about being a bandman?
To be with your best friends who understand you.
To be with more and more PACHIMON who share the same feeling as us.
ーーWhat are the best cheap (daily use / drink / eat) gifts that fans can give you?
Vo.MaKa (摩訶): I don't need anything in particular. It's fine as long as you bring the desire to kill us properly.
Gt.REY (怜): I only need your strong will to obey me and the determination to accept anything.
Gt.PP: I don't need affordable items.
Ba.Kiyo (清): Cigarettes,
Dr.Sekai (世界): Cigarettes, Alcohol, Horse racing newspaper (weekly), love letters.
ーーIs there anything you don't want to receive?
Vo.MaKa (摩訶): Fakeness
Gt.REY (怜): Alcohol, Cigarettes, rebellious spirit​
Gt.PP: As said, affordable items!
Ba.Kiyo (清): Food
Dr.Sekai (世界): Jägermeister, Tsukemono
ーーHow do you see the future of HONMONO?
Wednesday, November 1st, 2028….
ーーPlease share a message to your readers.
From now on, HONMONO will start to walk.
In order to find your real feelings;
Let's find them together in this bitter world,
Let's live with all our might in this difficult world together.
Thank you again for answering this interview!
Translation note:
HONMONO = Real things hon = real mono = stuff
However I translated it as "Real feelings", by reading this interview you will understand the reason.
Beside this, I tried to make sentences flow better by adding some "not written" words, but still expresses the "feeling" which the band wants to express, otherwise the English translation might have sounded weird.