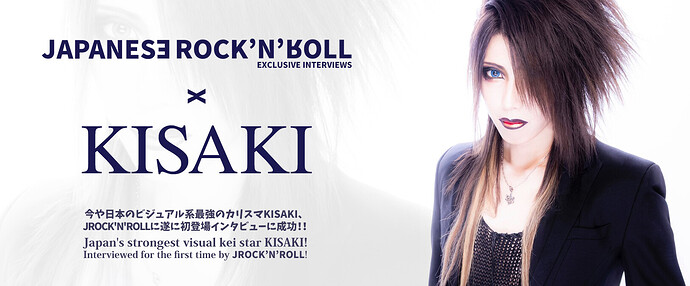 KISAKI, thank you very much for taking your time to answer some questions for JRNR.
KISAKI shares some wonderful words, which is an absolute must read for every visual kei fan! Please enjoy it!

Before you continue to read this interview, I'll love to mention that I've also translated the Vijuttoke interview which was published on March 18th! Please read it after you finished reading this one since it reveals some extra need to know info!
◦◦◦◦ Introduction and Label matters ◦◦◦◦
Which artist did you respect the most when you were younger/a child?
I was a big fan of X JAPAN, Hideaki Tokunaga, REBECCA, and other J-Pop bands that were popular at the time.
Who are some of the artists that have influenced you in making music?
It's always been YOSHIKI (X JAPAN) and/or Ryuichi Sakamoto.
You started your music career as STAFF for SCARE CROW right? How did you meet them?
When I was in Junior high school I saw them at a live event, and I was totally overwhelmed and fascinated by their artistic, progressive, dark and beautiful worldview. I noticed their flyer, which said that they were looking for staff, so I applied right away for the position and worked hard all through my 3 years of junior high school.
Are you still in touch with the members of SCARE CROW?
Back in the days Vocalist Izumi came to see Phantasmagoria. But currently I am not in touch with him.
What's your lowest bottle point in your career? Did you ever want to give up everything?
I've had members quit on me many times (bitter smile), and I've thought about quitting many times because of the loneliness and the difficulty in maintaining my spirit each time. Well, I guess it's my own fault.
What's your biggest high point in your career?
After all, I met Kyo (DIR EN GREY) and we formed La:Sadie's.
What's the most difficult thing about being a bandman?
It's not really that difficult. But I guess you should listen to the advice of various people and keep on trying to give your best to touch the hearts of people and to make your band accessible to as many people as possible.
Is there anything you regret or anything you would do differently?
My past is a mess, but I'm not going to write about it because there's nothing I can do about the past.
---
For more interesting and revealing answers please check it out on jrocknroll.com
Also as mentioned, it includes the translated version of the latest Vijuttoke too, so be sure to check it outQ