Interview by: Ryu – Japanese fix by: 珠城 | English Translation: Ryu – English check: Rena
Magick-マギック- , a band who creates dreams or even reality?…
This time you will learn more about their world view and what kind of visual band they are! Please enjoy this detailed interview!
Kaineko-chan (飼い猫ちゃん): Nickname for Magick fans.
Furitsuke: Hand movements, choreography done during Visual Kei lives.
■ This is your first appearance on JROCK'N'ROLL, so could you introduce yourself and tell us your strengths as well?
-Ame-: I'm vocalist Ame. I suffered from stage fright for a very long time, however my strength is — The moment, when the curtain of the stage opens, my emotions are loaded with joy and I'm able to convey that joy to everyone in front of me…. I guess it's getting transmitted, right?
-Maya-: I'm guitarist Maya. I went with a bicycle from Tokyo to Osaka. One of my strengths is that I give my full power on something I think is interesting.
-Aishi-: I'm guitarist Aishi. My strength is to make everyone happy with my charm.
-Nemu-: (°Д° I'm bassist Nemu. My strength is that I love to use a 5-string fretless bass, which not many other bass players use…)
-Iroha-: I'm drummer Iroha. I like to drink whiskey and to play APEX.
My favourite chara to play APEX is Caustic.
My favourite whiskey is Royal Lochnagar.
My strength is that I'm strong. (laugh)
■ What's the attraction point of the other members?
-Ame-: Each of us has a different personality, so each of us has their own charm. Some of us are very passionate about music, while some of us are cool and are well aware of what's going on around them.
-Maya-: We all have different ideas about stuff which we never could think of if we would be alone, so to me it feels that I found nice and good people to be in a band with.
-Aishi-: They are cool and cute and everyone has their own personality which is their strength, so to me that excellentie is the attractive part!
-Nemu-: (°Д° Each of us has their own strengths and weaknesses, but they have something I don't have…)
-Iroha-: Everyone has said it all above, so please take a look at our SNS and MV and find our charm at your own pace.
■ What was the reason for choosing your instrument?
-Ame-: Originally, I used to play drums and bass as well, but I have chosen to be a vocalist because it's the easiest way to convey my own feelings.
-Maya-: When I first started to play the guitar, I really thought it was so hard to learn! But later on I really enjoyed it! So I really got into it.
-Aishi-: I started to play the guitar because I was longing for Hide.
-Nemu-: (°Д° When I formed a band in Junior High School, we already were with four guitarists, so I decided to become the bass player…)
-Iroha-: I liked to play music games (Taiko no Tatsujin, etc). And then it was decided to play as a band at a festival. So I started to play the instrument which gets everyone enthusiastic into the mood with its rhythm.
■ Could you tell us about the concept of Magick?
-Ame-: Magick's concept is that we enchant everyone with the space between dreams and reality. Does Magick show you a dream or reality? Are you dreaming or facing reality?
■ What's the charm of Magick's live performances?
-Ame-: Basically, I would say that the storytelling of the music is our charm, but I also think that how we perform our live performances is another charm of ours.
-Maya-: We call our live's "shows", because we perform a show. I think that part is our charm because everyone is able to enjoy a worldview that is different from ordinary lives.
■ Which song is your favourite song to perform and why so?
-Ame-: The song which I like to sing the most is "Furiru Furawaa (ふりるふらわー)" but the song I love to perform the most is the song called "Sarabona (サラボナ)". The reason is because I love to watch from the stage everyone jumping around while spinning their towels in front of me.
-Maya-: I like the sense of unity of the song "Yokubou no Tou (欲望の塔)" with everyone saluting and marching in unison.
-Aishi-: Our representative song, "Wonder Cat Dance".
It's so cute when all our "Kaineko-chan's" are singing the chorus along, I'm looking forward to seeing it every time again.
-Nemu-: (°Д° "MARIONETTE GAME (マリオネットゲーム)", it's a shuffle song with a jazzy atmosphere…I usually play songs with picks, but I don't use them for this song…)
-Iroha-: "Sarabona (サラボナ)", because it's fun to play.
■ Could you tell us more about the world of Magick lyrics?
-Ame-: I write the lyrics myself, but every lyric I write is like a story, I'll create a world where you have to read the lyrics whether the main person feels happy or unhappy. Whether the main person feels happy or unhappy, depends also on how you, the listener, feels it.
■ How do you get your inspiration for writing new songs?
-Ame-: I always love to play games and read books, so lot's of inspiration comes from that. Some melodies in games sound very memorable, so I sometimes refer to them to create my own.
-Nemu-: (°Д° I get inspiration by listening to a lot of different kind of music. So after a while the melody which I was looking for plops up in my mind and then I know what kind of tune I should create to make it sound cool…)
■ Could you tell us more about the concept of your costumes, logo, mascot, artwork, etc?
-Ame-: Our costumes themselves are made to match the music to be released at the time, referring to the world view of the songs being released.
The logo is created to explain the worldview of Magick in an easy way.
But our Mascot, etc…. I wonder if you can discover it by listening to all the songs of Magick…!
■ In 2021, your 1st Mini Album "[Etihw] Market – Black Market -" was released. Please explain each song to us.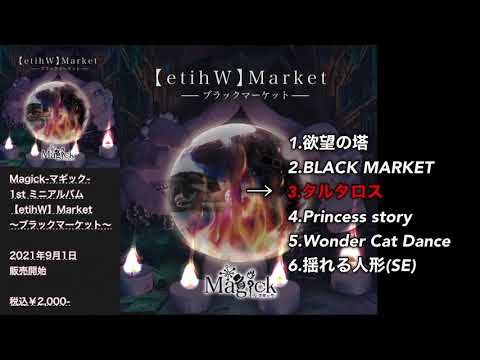 ➞1 Yokubou no Tou (欲望の塔)
-Ame-: The world of this song is a totally creative fantasy world. The story is about a Magician who falls in love with a princess and kidnaps her. While performing this song it's fun to watch our audience, because everyone is doing furitsuke* like a Magician.
➞2 BLACK MARKET
-Ame-: The worldview of this song refers to the image of the black market in Asia. What kind of story lies behind it? Well you have to listen to this song to discover it.
➞3 TARTARUS (タルタロス)
-Nemu-: (°Д° I tried to make the melody with a little strange vibe, such as irregular beat changes…But after all I turned it into a easy to get into the mood song…)
➞4 Princess story
-Nemu-: (°Д° As the title suggest, I imagined a "princess" and created a beautiful melody and tune around her…)
➞5 Wonder Cat Dance
-Ame-: It's the killer tune of Magick. We call our fans "Kaineko's", and this song was the basis for that. Our fans are doing furitsuke* just like cats, so it's really fun.
➞6 Yureru Ningyou (SE) (揺れる人形 (SE))
-Ame-: This is our entrance song, and we made it so that the audience can easily understand our world view from the beginning of any live performance.
Thereafter​ it's the song that leads into the worldview of our music.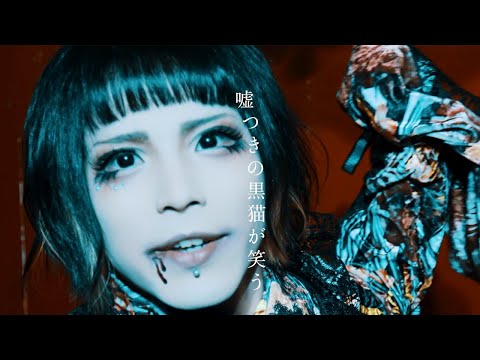 ■ What makes you proud of the"[Etihw] Market-Black Market-" album?
-Ame-: Hmmm…It's an album packed with all the songs and worldviews we often perform at our shows. So this CD will give you a perfect idea of how we are. It's what I am proud of…isn't it?
-Maya-: Our worldview is packed into one album and you can enjoy our story, so you can enjoy the world of Magick at once by listening to this album!
■ Are you planning to release "[Etihw] Market-Black Market-" as a digital release as well?
-Ame-: We will probably release it in the future, but at this point it's still undecided when it will be.
■ Could you recommend a song, for those who want to check out Magick's music for the first time?
-Ame-: Personally, I would like you to listen to Wonder Cat Dance, which is synonymous with Magick,
-Nemu-: (°Д° All of our songs have their own worldview, but Ame's song has a different atmosphere than those who I've written, so I would wish you would listen to them all and compare them…)
■ From June 28th to July 27th, VoLt'z records presents "VoLt'z 1st Tour 2022" isn't it?
-Ame-: That's right. It's a one-month-tour. But I'm going to turn it into a tour that will entertain all fans in each region! When this tour is finished we're gonna make some new announcements, please look forward to it!
■ Please tell us your enthusiasm for this tour.
-Ame-: I'm gonna burn Magick into the hearts of everyone who will watch us!
-Maya-: This will be our biggest tour as Magick so far. We will give our best to appeal ourselves to as many people as possible, so that they also enjoy the fun world of Magick!
-Aishi-: We're gonna do our best to promote the world of Magick and to gain new fans who don't know the world of Magick yet to make them, also even if just a little, interested in us.
-Nemu-: (°Д° I wanna entertain all the Kaineko-chan's* who come to visit us…)
-Iroha-: When this tour is over, you will be captivated by our charm.
■ What do you want fans to look out for on this tour?
-Maya-: I can do more than just to ride a bicycle…(lol) I hope that you will enjoy our shows and that you can see and will notice that we're doing and enjoying it with all our might as well.
-Aishi-: I want people to forget about everything they don't like and have fun from the bottom of their hearts.
-Iroha-: I hope that you will be able to escape from reality if you come over to watch us! Then when you return home, when the despair of reality comes back, you will come again to our shows and enjoy escaping from reality by watching us again!
■ You said "If you gain a full tour point card, you will receive a special benefit" But what is actually the benefit?
-Ame-: Basically it's a two-shot and six-shot cheki. Also you will receive a cheki-case if you are able to visit all shows.
■ What's Magick's strength as a band?
-Ame-: The strength of Magick is that each song has its own story and the way how we create fun on the stage. It's a world that only can be created with us five, that's one of our strengths for sure.
■ What's the number one reason to listen to Magick's music? Also what's the attraction that other bands don't have.
-Ame-: It's our band concept, with which we can create our own worldview. We use this view to produce music that gives people the reason to listen to us. And the view of the world, how we see it, is one of the attractions that other bands don't have.
■ What does music mean to you?
-Ame-: For me, music is about "enjoying sound", so if I don't enjoy a sound myself, I won't play it for you.
-Maya-: It's entertainment and amusement, so if you don't feel the fun, you can't enjoy it, but if you can have fun you're the winner.
-Aishi-: A life worth living. It's a way of life, isn't it?
-Nemu-: (°Д° It's a premise to enjoy, but I want to improve myself forever…Also it makes me wanna get closer to the people I longed for…)
-Iroha-: The meaning of music for me? You know, my answer right? Don't ask such obvious questions, music is something to enjoy!
■ When do you feel alive and happy?
-Ame-: I'm the happiest when I stand on the stage and when you are watching us.
-Maya-: The moment when our fans enjoy our show, the moment when you notice that they had lots of fun, the moment when they tell you that they had fun, those moments I feel so happy that I even could cry.
-Aishi-: When we hold our lives and when our own "Kaineko-chan's*" are looking forward to watch our shows.
-Nemu-: (°Д° After all, it makes me very happy to see our Kaineko-chan's enjoying themselves in front of the stage…I also feel happy if I can sleep a bunch of hours…)
-Iroha-: When I'm drunk and when I play live, then I feel the most "alive".
■ Do you have any beliefs or mottos as an artist?
-Ame-: I don't have any particular beliefs or mottoes, but if I had to describe myself in one word, it would be "liar".
-Maya-: Those who enjoy everything are the winners.
-Aishi-: I'm the only winner.
-Nemu-: (°Д° A good workman does not blame his tools…I would like to be much more skilled…)
-Iroha-: Break through the limits
■ What's the goal of Magick's future activities?
-Ame-: I wanna entertain everyone who comes to watch Magick.
-Maya-: First of all, I wish to enjoy our lives with everyone who came to our tour in the future as well.
-Aishi-: I wanna push us forward with all my might.
-Nemu-: (°Д° I want to surprise everyone…)
-Iroha-: That everyone enjoys our music.
■ Finally, please give a message to your fans and readers.
-Ame-: Thank you for reading this interview until the end.
-Maya-: You've read it until the end and that's one of the reasons why you are an adorable "Kaineko*". Thank you!
-Aishi-: With this interview, our fans who know us love us even more.
-Nemu-: Welcome to NemuNemu land! If you like me, I will cherish you!
-Iroha-: Those who read this interview until the end are the best!
You're the best, I'm gonna be your fan as well. (laugh)
Let's create a fun space together with me!