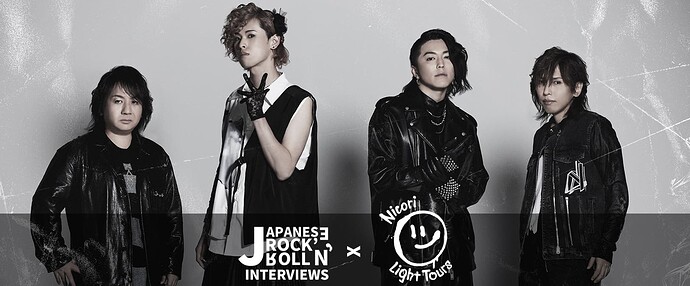 Interview: 珠城 悠 & Ryu
Translation:Ryu
Translation Check: Rolly (BigKpopRush)
Nicori Light Tours SNS
Official Website – Fanicon – Tiktok:@n__l__tours Youtube: You & Kiyo – Spotify
Twitter: @N__L__Tours
Gt. You @you_g0724 – Key. Kiyo @kiyo_keyboard
Vo. αyumu @aym02029874 – Vo. Ko-hei @kohei_matsuoka5
Instagram:@nicorilighttours
Gt. You @you_g0724 – Key. Kiyo @kiyo_keyboard
Vo. αyumu @hondaayumu – Vo. Ko-hei @kohei_matsuoka05
Nicori Light Tours, nice to meet you, thank you very much for answering this interview!
・This is your first interview with JROCK'N'ROLL, so please introduce Nicori Light Tours to everyone.
We are a rock band which was formed by two former members of the rock band Janne Da Arc, guitarist you and key kiyo, together with twin vocalists ɑyumu and ko-hei, both vocalists differ in musical style and genre.
・Please tell us how you all met and how the band was formed.
At the time that you and kiyo were looking for a vocalist to form the band, they found ɑyumu's covers of Janne Da Arc on YouTube. We thought his voice was very attractive and stunning, so we contacted him and we also found that he really liked Janne Da Arc and so we invited him to join the band. After that, we wished to start as a twin-vocal band, so we started searching for a different type of vocalist. And so we met ko-hei, who didn't join via band connections. At the same time, he was also interested and looking to start a twin-vocal band, so just by coincidence, we met each other.
・What is the origin and meaning of the band's name (Nicori Light Tours)?
Ni (Two): Two vocalists. Two adding's to the top (Refers to the musical parts other than rhythm and bass added to our songs by you and kiyo)
Co(Co-Write): You and kiyo's individual personalities fused together to create a joint production through an unexpected combination.
Ri (Re-write): New Creation. Rewriting of previous styles, etc.
Light: A new light that shines in the style of a rock band.
Tours: Journey. Towards the entire world.
・Why did you decide to form a band with twin vocals?
Originally, we did not have the image of forming a band with twin vocals, but during our search for a vocalist, we asked various potential vocalists to sing our demo songs, and so we realised the goodness of each vocalist, which made us to decide that it would be better to expand the range of our songs with two vocalists than what we could do just with one vocalist.
・ What was the reason for choosing your position?
ɑyumu (Vo): It started with going to a karaoke bar with friends for the first time when I was in the second grade. After I sang in front of my friends, they all praised me as much as ever before in my whole life. It made me feel I was good at singing, so I started the road to become a vocalist.
ko-hei (Vo): I could not forget the cheers I received when I sang in front of an audience of less than thousand people at a high school festival. That was the point when I decided I wanted to become a vocalist.
you (Gt): When I was in junior high school, my friend invited me to form a band together and forced me to play the guitar. The first songs we covered were from Unicorn.
kiyo (Key): There was a piano at home since I was little, also I enjoyed playing the organ at school music classes.
・Which artists have influenced you?
ɑyumu (Vo): Janne Da Arc.
ko-hei (Vo): ATSUSHI from EXILE.
you (Gt): Unicorn.
kiyo (Key): TM NETWORK (Tetsuya Komuro) and Unicorn.
・What are your main inspirations for writing lyrics?
We will create the music according to what we have experienced ourselves and create the image and atmosphere into that shape.
・Please tell us about the production process of TRIGGER's EP.
Rather than the usual "Performing the songs after the release" this EP was a release of songs that we performed live many times during our secret shows before we made our band's debut. So it was still easy for us to come up with ideas to improve the songs during the time. Nevertheless, ɑyumu and ko-hei, still had only little recording experience and felt really nervous. Still, whether it was their special ability or something else, the way both grew as time (or rather, every minute) went by made us really glad that we had chosen them again for this release.
・Please share some LINER-NOTES on the TRIGGER EP.
T1 砂漠の果実 (Sabaku no Kajitsu)
Originally, the song had an Asian flavour, but with the use of trumpets and other horn instruments, it was turned into a rock shuffle song with a pop-band-ish atmosphere. Also at the ending the fake battle between the two vocalists makes it also worth listening to.
T2 蜃気楼Girl (Shinkirou Girl)
The sound of the aggressive and tricky guitar riffs feels mysterious yet are somewhat comical synths, and the harmony of ɑyumu and ko-hei are all intricately intertwined, which express yin and yang in a unique balance. Together with the song「コマンド疑似恋愛(Komando Giji Renai)」it's the business card song for Nicori Light Tours.
T3 コマンド疑似恋愛(Komando Giji Renai)
The instrumentation melodies are heavy, the vocalist is singing it as if it's a ballad song. The song also has a strong character because of its flowing static and dynamic developments. The lyrics fit perfectly for an adult romance story.
T4 white margaret
It is a straightforward love song, so we hope you will listen to it as it fits your own feelings. To make it stand out more, we made the rhythm bounce a little, and we reflected it with our own various song ideas.
T5サイハテ (Saihate)
It turned into an exciting song by adding digital elements to a hard rock sound. You can listen to it when you want to brighten up your spirits or something like that. We made it so that everyone can get excited at our shows, so we hope you can enjoy it together with us!
・What is the best part of being on stage?
That our songs will be fully completed after performing them live, because we can directly feel the reaction and unity of our fans.
・Why did you decide to release a single for 7 consecutive months?
As Nicori Light Tours is challenging itself to do various things, we decided to release a song for 7 consecutive months, hoping we can show various aspects of our music by releasing different types of songs.
・ Please tell us about the first song "DATSU !!!".
One characteristic of Nicori Light Tours is that the twin vocalists are very aware of each other, and the song is like a song-versus-song. It's a song that you can enjoy with a feeling of "man vs. man" and the "rawness" of αyumu and ko-hei, with little or no "harmony" etc. attached to it. The lyrics are a fusion of the heavy sound and a worldview that expresses intense love, latent ego consciousness, and instincts through eroticism.
・What are the most memorable live shows and moments of "Nicori Light Tours"?
The tour, which took less than two months after our debut, with two shows a day across the country, was memorable in many ways. The final show of the tour, at WWW X in Tokyo, was especially memorable because we felt a great sense of unity with all our fans, also we could sense the growth that had taken place during the two months of touring. Also, we have wonderful memories of eating together with everyone (members & staff) while travelling.
・Being active in this corona pandemic has it brought any positive aspects?
Since it has become easier to stream our lives, we have done more live streaming via our fan club. That way we also could deliver our shows to our distant fans. Also, we feel the pandemic made it easier to communicate with our fans online and which made the distance between our fans closer.
— Nicori Light Tours, thank you very much again for answering this interview.