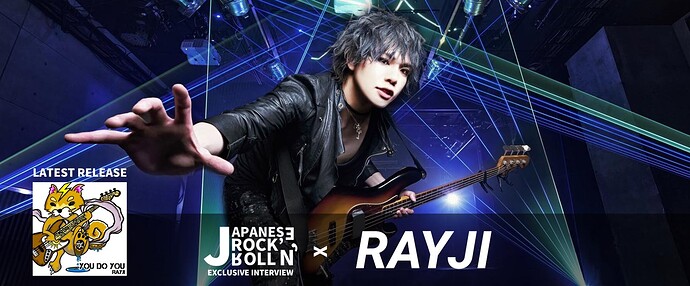 "RAYJI", you might do remember him as the bassist of visual kei band ViV. While he was active in ViV, RAYJI toured solo with his bass trough the 47 prefectures around Japan. RAYJI's bass skills aren't just regular skills, he plays his bass on a unique way and after his NewYork tour in 2018, RAYJI decided to be also a singer. I do call him the next Miyavi. Please read on to learn much more about RAYJI, please get a cup of coffee because the interview is long, however you won't be able to stop reading! Please enjoy the world of RAYJI! I hope you will read it until the end!
RAYJI thank you very much for this interview!!!
Nice to meet you RAYJI, please introduce yourself in a paragraph.
I am RAYJI!! I am a solo artist who does sing and rap while slapping my bass!! Well, NICE TO MEET YOU! I knocked out NEW YORKERS with my bass skills! They called me "CRAZY RAYJI", because I played my bass so crazy!
How did you enter the MUSIC WORLD?
When I was in my 3rd year of high school, one of the school events brought me to make the decision to be a musician.
So you started your solo activities in 2018?
I was in a band (ViV) for about 4 years. After the dissolution, it was hard to decide which way I wanted to wander; to be independent / to join a new band / to be a support bassist / etc.
From August 2018 I decided to be a solo artist, playing the bass and singing songs. It was the hardest choice but, it's a fun road! (lol)
How would you describe yourself with your favorite Kanji?
Well nothing particular but sora(Sky 空) just comes up.
While I walk around I often stop for a moment to look at the sky, because when I look up at the sky, I can open my mind and that would release me from various (troubled) feelings.
Why did you choose to play bass guitar?
I wasn't able to play the guitar because a guitar has 6-strings. It was tough work for me as a beginner to press more strings with one finger. While with a bass you only have to press one-string to pour out a cool sound, so I started a bass guitar. (laugh)
Why do you think someone should listen to "RAYJI", what's your unique point?
First of all, I think that what I create is very different from the Japanese music style. Japanese music structure typically has the verse, bridge, and it can be more exciting on the chorus. I don't say that it's good or not, but I often don't have a bridge inside my songs. When my song has it inside it just happens naturally.
My chord progressions are unique and I never have typical popy chords. I literally don't want to create typical popular songs. (smile) I do arrange all my music by myself and it takes more time to create a good song, but all the songs I create are fully created with my own ideas.
However, the most unique point is that you can enjoy my performance to watch me singing and playing the bass. It's unique, because there is (almost) nobody who sings and slaps the bass. Also I created a unique different bass sound which nobody plays, so please check it out! (smile)
You said; "My music style has a different appeal than J-music". Could you please explain that?
Japanese only feel really comfortable listening to typical Japanese music which is easy to remember, but my music isn't like that. "My music is totally different from other music you know, you have never heard something like this before". Therefore, because it's so different, it takes much longer until it's loved by a lot of people.
After disbanding of ViV, why did you decide to continue as a solo artist? Why didn't you join a new band?
I didn't really feel like forming a new band after my band broke up. However, if I encounter some good people now, I might start a new band, but right now I've no reason to search for other members. I really like to do stuff my way, so it would be difficult to work with someone else. If I take something seriously, I will take it all, actually I thought that I didn't had the right environment to be able to suppress my power, but I've heard a famous quote "If you don't meet the people with the same ambitions, you can start walking alone rather than forcibly following someone". The quote fits me also because until now I didn't meet that person yet who also really wishes to spread my music around the world from scratch together with me .
When I started I was a bassist who has never sung ever before, the reason why I decided to sing too is when I went to NEW YORK in April 2018 while I was playing my show the audience were shouting "Make some noise!". The moment I started to "sing" the audience went crazy, which impressed me and gave me the feeling I could sing too! It also showed me, even if I'm not the world's best singer, that if the chemistry with my bass is perfect that people still love it!
It's maybe over-self-conscious, but somehow I feel lucky to not have met a vocalist, still I have gone beyond myself every time again. I should do my best as a singer and bassist, my singing skills grow slowly, I'm getting better, so please watch out for me! Please look forward to RAYJI's songs in the future!
---
Please continue to read on JROCK'N'ROLL
(It's a crazy long fun amazing interview, so please continue to read it over there…)