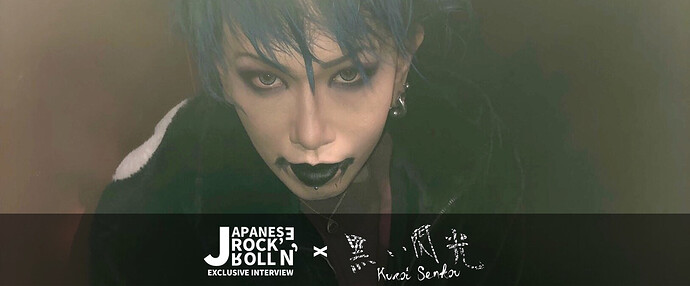 Check for more info etc the interview on
JROCKNROLL
.
Interview part 2
This time I present you part 2 of RotM's interview! If you didn't read part one yet, please check it before you read this part. Well let's go to discover more about RotM's new project!
First, let's talk about your very first live show! The first live of "黒い閃光 (Kuroi Senkou)" was on December 16th. How was it? Did you have any trouble on that day?
It had been a long time since I had performed on stage, so I had a hard time regaining my senses on stage. At the end of the show, I think I came back to my senses a little.
So you felt nervous about being on stage again? Or what does "I came back to my senses" mean?
No, I don't feel nervous at all. It was more like that I remembered how to behave on stage, or rather, how to make the stage my own.
How was your preparation for the live performance?
I've worked on making it happen for a few months, so in the end everything went perfect.
So everything went "perfect"? But how did you manage to get everything perfect? How did you manage it all?
I've rehearsed in the studio many times for several months before, so I already had a view of the day of what it should be like.
How did you decide what to wear on stage on this day?
In the past, I always wore boots on stage, so now I thought I'd wear sneakers to do something different than the past. And I matched my clothes with my sneakers.
I felt that your fashion has a hip-hop approach, do you like hip-hop?
I also like HIP-HOP, but I guess I'm more of a rock-style-mixture. My style doesn't use those typical Gothic V-kei elements, as I've eliminated them.
How was it to go back to the stage after such a long break?
I was a little worried. But in the end I enjoyed it.
What were you worried about? And what did you enjoy from performing on a live stage?
I was worried about the balance of my setlist on the day, because I performed many songs for the very first time LIVE. The fun part was seeing everyone's smiling faces.
Please tell me the setlist for the day. How did you decide on the setlist? Why did you choose the song to play?
M1 fall down
M2 dist(end)
M3 君を拐うなら雨の日に
M4 悪夢-再-
M5 Voodoo
M6 百眼-令和ver.-
For this setlist I selected the songs from the ALBUM "GARDEN" which was just released. Also, Voodoo was planned to be released on December 25th, so I thought I'd play the song before the release too. I thought this setlist would be the best choice to represent the current me.
Please tell us the concept of each lyric in the setlist in a few words.
M1 fall down ➞ Regrets and Illusions
M2 dist(end) ➞ Suicide and Suffering
M3 君を拐うなら雨の日に ➞ Abduction
M4 悪夢-再- ➞ Suffering
M5 Voodoo ➞ Hallucinations caused by drugs
M6 百眼-令和ver.- ➞ Apparition
Have you decided on your next live schedule?
It's still undecided.
Why did you decide to launch your own indie label "Deep Sea Record (former "secret galaxy record")?
There was no advantage to belonging to another agency or label, so I thought I'd make my own.
Are there any other artists belonging to the music label?
The current Deep Sea Record is my personal label, so I'm the only one.
Anyway what made you want to enter the Visual Kei world?
Before I noticed, I was inside this world, so there is not really a reason why I'm inside.
You once said, "On the contrary, I think that Japanese V-kei is doing the same thing. Why is no one trying to do something new? So if nobody does it, I thought I would do it. That's it." What are some examples of new things?
I guess it's about incorporating elements of EDM and other kinds of club music.
Being a musician is very difficult and not always easy. What are the biggest challenges of being a musician?
I guess it is that you need to create new things constantly and always pursue them.
What makes the visual style so appealing to you? What does this style mean to you?
I think the appeal is that I can visually convey my world view through make-up and other means. I want to show my world not only by you listening to my music but also when you are watching me.
How would you describe the musical style of "黒い閃光 (Kuroi Senkou)"?
Free style.
What is your biggest inspiration for making music?
To be alive. I think there are many hints in life which are triggers for inspiration.
Please tell me the process of writing and composing a new song.
It's like deciding on a theme, making sounds, and assembling them.
What is your inspiration for writing lyrics?
Feeling the atmosphere of the song.
So, do you write the melody first before you start writing the lyrics?
That's right. I write the melody as a motif to some extent, but I will modify it a little after the lyrics are written.
What is your favorite place to write a new song?
My room.
What is the most valuable event in your musical activities so far?
To see the happy faces of my fans. The rest is touring around. I think that was also a good experience.
So you like to tour around? What is something you learned from touring around?
I like touring around. I like it because every region has a different taste. What I've learned is that I have to keep training myself to be able to give my 100% at any LIVE in any environment.
What is your favorite kanji for expressing yourself? What is the reason?
毒 (doku) poison. The songs I make are like poison.
What do you want to do when you have time? Do you have any special hobbies?
My hobby is writing songs, so I want to write songs all the time.
So music is your only hobby? You don't love other things?
Yes, I guess music is my only hobby.
Do you like traveling? Is there a place you want to go?
Europe and America.
What would you like to see in Europe and America? Any cities you really want to visit?
I just wanna go there for live shows. I wish to be on stage in both countries.
**So you only wish to visit live venues? What about vacation wouldn't you like to see a cool sightseeing spot? **
I don't care much for going on vacation, I don't need it. I'm only interested in giving a LIVE show overseas. I don't really care for sightseeing… It makes me most happy If I can deliver my music to the world, then my life feels completed.
When do you smile?
When people are kind to me.
What is your favorite local food in Japan?
Sushi and sashimi
Is it important to connect with fans? What are you doing to "keep in touch"?
Hopefully we can connect with our hearts. My LIVE shows will confirm my feelings!
If you can hold a liveshow anywhere in the world, where would you like to do it?
MADISON SQUARE GARDEN.
What is your ultimate goal for the future?
One-man LIVE at MADISON SQUARE GARDEN.
We live in the world of Corona, but what have we learned from it?
That the connection with the heart(spiritual) with someone is very important too.
Did Corona have any positive impact on your life? For example, more close friendships with your fans?
I've noticed that it's very important to communicate through various SNS, to keep in touch with everyone.
How would you like your fans to support you? And how would you like your fans to support you if they cannot visit your lives?
I would be happy if you could come to my shows. If you can't make it, I'd be happy if you could enjoy my releases and/or the live streaming's.
And please give a message to your fans and readers!
From now on, my band ALMA will also restart. ALMA will work in parallel with 黒い閃光 (Kuroi Senkou), so please support both projects!