TEXT: 長澤智典 Nagasawa Tomonori
English Translation: JROCK'N'ROLL
ENGLISH FIX: cherrylng & Katt
French Translation: Crimson Lotus [HERE]
Be free to translate it into a different language, if you do please notice me!
SARIGIA
@SRGA_Official | @SARIGIA_Asuka | @SARIGIA_Natsu | @SARIGIA_Shoma
SARIGIA, who is currently releasing music videos for 7 consecutive months, talks about their 5th work "gluttony-" which is currently under production and will be introduced at their ONEMAN on June 4th!

SARIGIA's concept is "DEVIL" and "SEVEN DEADLY SINS". From January this year until July the band will release a new MV and also perform a ONEMAN each month. The last ONE-MAN will be on July 26th, held at Akabane ReNY alpha. Additionally, the developments to their last ONEMAN and some other extras to the seven consecutive month releases can be followed via their YouTube channel. Every Wednesday, Friday, and Sunday, new videos will be shared about this journey.

SARIGIA recently released four music videos: 「傲慢-arrogance-」,「強欲-greed-」,「色欲-lust-」, and 「嫉妬-envy-」. However, in this interview you will learn more about their thoughts about the 5th MV 「暴食-gluttony-」 and their thoughts about their FREE ONEMAN "DEVILISH! Completely Free ONEMAN Sabbath- The deadly Sins Origin-666-Devil Rally-" which will be held on June 4th at Higashi Koenji 20,000 denatsu.
—「嫉妬-envy-」 is a Visual Kei song?! —
ーI'd like to ask you again about the appeal of 「嫉妬-envy-」the fourth in a series of seven music videos that are currently being released. Aren't the lyrics pretty badass?
Asuka: The lyrics are written about an obsession with something, no, it's written with the feeling of a psychotic person who is totally obsessed with something. Also, it's written in a narrative style, so I hope that you will understand the thoughts which are put into it.
ーI'm also wondering if Asuka's own feelings are projected into the song?
Asuka:
Asuka: It really has nothing to do with myself, but there are maybe some things which I have in common, such as the feeling that you can have if you are obsessed with certain things. However, you can also see that "Envy" is a form of obsession. I've replaced the word "Obsession" for "Envy".
ーI guess that's true, there is kind of a "distorted" sense of obsession with people…
Asuka: I'm also interested in people, but it never turns into something like what happens in 「嫉妬-envy-」.
ー「嫉妬-envy-」sounds like a song that visual kei fans would embrace, doesn't it?
Natsu: That was something I was conscious of, right from the start of the guitar intro. It's unique to visual kei, a guitar lead that remains in your ears while agitating the feelings of anxiety, and a tune with a sense of speed. On top of that various modulations were applied. The song is filled with a sense of fun, such as modulating the big chorus up half a note.
Shoma: 「嫉妬-envy-」 is a visual kei song in a good way. The bass adds depth to the song while playing it in a way that overlaps with the backing of the guitar. By the way, Natsu-kun asked me to write the chorus melody, and I wrote it all by myself.
Miyabi: In the case of 「嫉妬-envy-」, it may sound rather uneventful. If there is a fast tempo, there are many developments in it, so only one person is sweating and it's the drummer. This is where it overlaps with the style of visual kei music of today. Because of that, it feels good to receive love from fans via concerts, so I'll continue to use this style for our shows. However, this song is one of those difficult songs to play because it leaves me sweaty after playing it. (laughs)
ーIn the MV of 「嫉妬-envy-」 Asuka-san cuts his wrist and colors his pure white shirt full of blood, didn't he?
Asuka: Well, even if I'm doing that I don't feel that I am a crazy person (laughs). It's just because the theme of this work is "Envy", also it's not fun to just hold a grudge, so we had to think carefully about the ending of the MV before creating such a scene. Well if you are curious, please check out the video.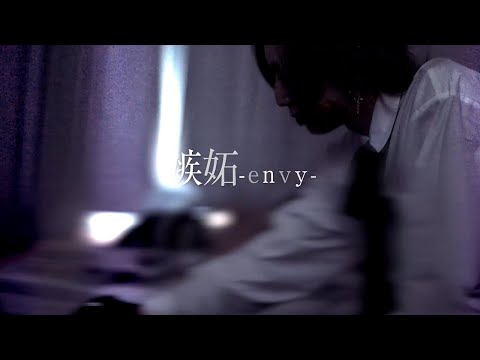 —The fifth work, 「暴食-gluttony-」 its image is "fashionably crazy".—
ーUntil now all songs have their own tune.
Natsu: That's what we were aiming for. We wanted to create seven songs based on the theme of "The Seven Deadly Sins", And we wanted to make them all different, so that we could also create a music video for each of them. We're still in the process of completing all of them.
ーSo the fifth song, 「暴食-gluttony-」, will be created based on this concept. First of all, please tell us about your aim of creating this song.
Natsu: 「暴食-gluttony-」is based of the "rhythm of jazz", which is sublimated into a band sound. The sound of trumpets and other wind instruments are added as synchronization to create a flashy tune. At the time of this interview, the song is still incomplete, the lyrics aren't yet added to the song, but the song will definitely have a different and brighter tone than our previous four songs.
Miyabi: It's a shuffle-type bouncy rhythm song, which makes it hard to drum (laughs), but this song also includes a rather long drum solo, partly because of the jazz tone of the song. If you are a drum fan, usually there aren't many elements that will excite you [compared to guitar fans]. However this time the drum solo is an appealing point for this song, actually it's the attractive point!
ーIt's quite novel that Jazz elements are included in 「暴食-gluttony-」.
Natsu: We also had the image of "fashionable and crazy" in our mind.
ーThe lyrics [at the time of this interview] are still being worked on, aren't they?
Asuka: I would say that the current lyrical draft is centered on "gluttony" so that it can be related to the title "eating". At first, I was thinking about "eating someone" [i.e. cannibalism], but that would be a different theme entirely, so I'm in the process of writing "gluttony" with "food" as the axis of the lyrics.
Shoma: Before we finished the melody of the song, I also had the image of eating someone in mind. However the music idea that came from Natsu gave me the impression of eating the same food, but in a stylish way, like eating fruit. Right now, I also can't wait to see what kind of lyrics will come out of Asuka's mind. Anyway, for 「暴食-gluttony-」, I used a walking bass technique where each note has its own movement. Also when I'm performing this song I need to concentrate and be careful that I won't make a mistake, so I won't have time to watch the audience because I have to focus (smiles). It's a song that I like very much too, but it seems that it's going to be a tough song to play live.
ーWhat will be the atmosphere for the MV of 「暴食-gluttony-」?
Shoma: The main focus of the music video will be a "meal scene", which will give a refreshing impression, but also add some darker parts to it. However, as we're planning to make a video according to the content of the lyrics, I wonder what will happen depending on the finished lyrics. One thing that I can say is that all four of us are gluttonous (laughs). We've also uploaded a video of the four of us overeating 7,000 yen worth of McDonald's on our SARIGIA YouTube channel.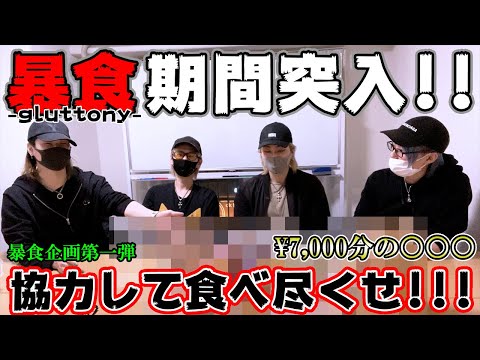 Natsu: 「傲慢-arrogance-」 is a bass prominent song, 「強欲-greed-」 was created in a way to promote the quality of music, 「色欲-lust-」 is the song for guitar fans, 「嫉妬-envy-」 is a song that highlights the appeal of the vocals. To follow along the flow that we have created from the beginning, we've created 「暴食-gluttony-」 as a drum-pushing song. Moreover, as 「暴食-gluttony-」 is based on jazz music, we tried to incorporate the appeal of jazz soloing into the song, at the end of the vocal's chorus, the bass, drums, and guitar soloed together to create a flow. That's also a highlight of the song which you should pay attention to.
Miyabi: I'm sure that there will be nice bass solo shots of Shoma. I'll be doing it with an overhead shot* (laughs).
Shoma: Which means that the attention is somewhat forcibly passed towards me, but that's okay (laughs).
**Note: An overhead shoot, aka the Bicycle Kick, is an acrobatic strike where a player kicks an airborne ball rearward in midair and is considered an iconic skill. Executing a bicycle kick in a competitive football/soccer match, particularly in scoring a goal, usually garners wide attention in the sports media. So in football/soccer terms, Shoma will be garnering a lot of attention for his bass solo part for the 「暴食-gluttony-」MV.

**Note: overhead shot is a high angle shot almost directly (or literally directly) above the subject. It allows the viewer in on the action but still maintains character detail. So in photography/movie terms, it also means that Shoma will be garnering a lot of attention for his bass solo part for the 「暴食-gluttony-」MV.
—As long you have money to travel to the venue, you can see our ONEMAN on June 4th without spending money at the venue, as the band will also pay for your drinks —
ーSARIGIA will hold "DEVILISH! Completely Free ONEMAN Sabbath- The deadly Sins Origin-666-Devil Rally-", a ONEMAN which will be held on June 4th at Higashi Koenji 20,000 denatsu. As the title suggests, it's a completely FREE ONEMAN.
Natsu: We, as a band, will even pay for your drinks, so if you are able to visit us you can watch our concert without spending any money. We hope that people who know our name "SARIGIA" but who never had the opportunity yet to see us, will feel free to come to visit our concert!
ーThe band also had to pay for the venue. In addition, the more people show up, the more the band has to pay for drinks, which increases the band's deficit. Even so, you really want people to be able to see your concert, even if you have to pay it out of your own pocket.
Shoma: That's right. The free performance on June 4th will be a stepping stone for the one-man performance at Akabane ReNY alpha on July 26th. For those who come to the performance on this day, we will also give away a limited number of "devil's horns" for free. For the set-list, we will select songs that can be listened to through our MVs and choreography videos that are currently on our YouTube channel, to make it more enjoyable, even for our first-time visitors, so that everyone can prepare for it. Also we're thinking of building a live show that will lead up to the one-man performance on July 26th. That is why we really want you to see it.
Miyabi: By watching only a ONEMAN you can really see the goodness of a band. That's why we would like people who are new to the band and those who saw us playing at the same event as their favorite band have played to come see us, because we will use this concert as an opportunity to show ourselves for the full immersion, and show you the world of SARIGIA's which everyone will enjoy to the fullest! We will definitely succeed in becoming everyone's favorite band!
Natsu: The free performance on June 4th will be a prelude to the Akabane ReNY alpha performance on July 26th. From that day on, S-tickets for the Akabane ReNY alpha performance will also be on sale. So you can go to the venue to get your S-ticket as soon as possible, and enjoy the concert and get the "devil's horns" as well.
Asuka: This [free] concert [at Higashi Koenji 20,000 denatsu] will be the start towards the one-man performance at Akabane ReNY alpha. It's free, so please feel free to come to the concert and please invite your friends along. If you think it's "fun", let's head to Akabane ReNY alpha together with "SARIGIA". This time, the concert is free, so please think you've been deceived~! Please come and watch us!