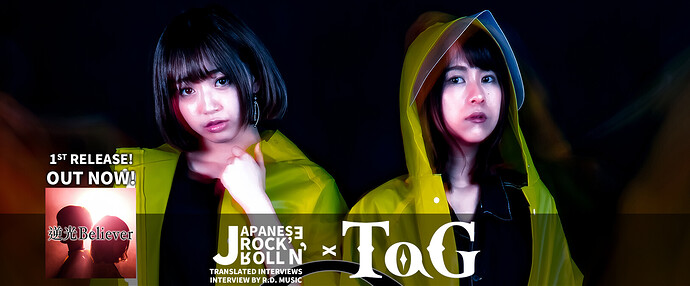 ROCK vocal unit "TaG" by Miyuki Naka and Mio Kurosaki, who announced Tag around December 2020 have released their long-awaited 1st single as their first step of their activity. It's a must listen song for every J-ROCK fan. Both voices are a perfect combinations which let's your heart shake and gives you an breathless moment.
Interview TaG By R.D. MUSIC
Translated by JRNR
Interview about TaG's first digital release "Gyakkou Believer".
— Please introduce yourself
Miyuki Naka: I'm TaG's Miyukichi also known as Naka Miyuki.
Miomio Kurosaki: I'm "Miomio" also known as Kurosaki Mio.
— First of all, please tell us about the origin of the unit name "TaG".
Mio: TaG is an acronym for "Try and Go! The Japanese translation of "Try and Go!" is something like "Let's just try it out" or "Let's just do it." In my opinion, let's just do whatever we want to do with music as much as we want to! Let's go! Go, go, go! I'm feeling like I'm going to… How about you, Miyuki?
Miyuki: Exactly like that! I'm actually the type of person who is a very easy thinker. Out of a sudden this feeling comes to my mind "the feeling of going to a different world soon" (laughs).
Mio: Yeah, that's right (laugh)
Miyuki: Yeah (laugh), "TaG" is not the place I want to be like that, but a place where I want to be like "Let's try everything! It's a place to be able to be myself."
Miyuki: You'll never know if "you can do it" or "if it's possible", until you try anything!
Mio: So, to start with, it's like what Mio said. "Try and Go!" (laugh)
Miyuki: That's 100% right! (laugh)
Miyuki: It's gonna be something that I can admire myself.
Mio: I can't create the music that I wanna make on my own. But I wanna "Try and Go" with a unit like TaG! I wanna do it!
Miyuki: It's a really nice unit name. Self-praise! (laugh)
— Next, please tell us how TaG was formed.
Miyuki: First of all, when the Corona disaster happened, I stayed at home and wrote songs very slowly, yet I wanted to collaborate with someone, and then Mio came to mind! So I asked her; "Why not create songs together?" and so I invited her.
Mio: Yes yes, that's right! I wanted to join because it looked fun! So I replied with; "Let's do it right away!
— Did you know each other before?
Miyuki: We know each other because we used to be in the same group.
Mio: Back then, we always were busy with various group stuff, even if we talked with each other we only talked about our activities.
Miyuki: That's right! Also we didn't see each other for a while, but I just thought of you and called you right away! Just like "Try and Go!"(laugh) The process of making songs in collaboration together is really fun and refreshing! I wish to create more music with Mio.
Mio: When Miyuki asked me, the wish in my heart that I want to become a bigger star grew bigger and I guess I can make that wish come true with Miyuki!
Miyuki: TaG was formed, because we both felt the same way!
— What kind of direction will TaG go as a unit?
Mio: Musically, it's a rock sound, but a much more important thing is that we "create what the two of us want to create."
Miyuki: Yeah, that's right.
Miyuki: Right now, we created a rock sound song… Rather than wanting to create ROCK, is that the music we really want to create currently is just ROCK.
Mio: Yes, that's right! Now we exist as a rock vocal unit, because the music we wanna do is ROCK, but what we wanna do might change in the future, so then we may change the direction. Anyway, we are working with the focus on "doing what we wanna create."
— Please tell us the appealing points of TaG.
Mio: It's a combination of the best of both of us!
Miyuki: Yes! We complement each other, and that's a good thing.
Mio: Oh yeah, I think we are a good match!
Miyuki: Also as a voice component, Mio has a singing voice with mid-low tones and I'm good at manipulating the mid-high tones. So, musically, we are a unit with a wide range of expression. I hope you also can enjoy it!
— The first release is a digital release, how do you feel about it?
Miyuki: The song production started from last year's corona disaster and the result shows our sweat and blood, also we are finally able to release this song! Frankly, I feel "soooo, happy"!
Mio: From now on, carrying the name TaG on our backs, this song is the indicator of who we are. So, with confidence we can show to everyone with this song "What kind of unit we are!".
Miyuki: Yeah, you could say that.
Mio: It's a song which is full of various special elements, so I'm very happy to finally release it!
— So what kind of songs is this?
Miyuki: This song "Gyakkou Believer" is very suitable for our first release. "You can't see through the glare and backlight, but you still go on". Due to corona we are determined to do this. Also, I guess Spring is "the" season to try out different things, "Gyakkou Believer" will push you to take on those challenges.
Mio: Especially due to the Corona disaster, I guess everybody is worried about various things everyday nowadays, hesitated about stuff, facing themselves a lot of times etc. These struggles inspired me to write this song. I wish you to listen to this song to cheer you up!… like when you drink an energy drink….right?!
Miyuki: Yeah!! It's giving you wings! (laugh)
Mio: Each person has their own way of feeling how to feel a song, so it's okay if people feel it in various ways, but just as an idea…. the song sounds cool and it's aggravating!
Miyuki: We recorded it together, sharing our opinions and going through a lot of trial and errors!
Mio: You know, there were some parts where we tried various different things.
Miyuki: Let's give it a bit of an exaggeration. We also mixed various tastes which mixed good sounds with each other, this release comes in high-resolution and we made it the way that we hope that you will notice and pay attention to each detail! So please listen carefully to all the details.
— Is there anything you wish that we pay attention to when we watch the MV?
Miyuki: The second verse when the chorus is over.
Mio: Oh, over there!
Miyuki: There is a scene in this MV where we all discussed how we would edit it, to give it a good shape of our image. The scene is viewable around 2 minutes.
Mio: That's about it (laugh).
Miyuki: Please look at our facial expressions!
Mio: If you watch this MV you will be able to feel our expressions which we have put into this MV, so please watch it many times!
— Please tell us about your future plans.
Mio: Our next song is already in progress.
Miyuki: There are some more songs coming up. I'm working on shaping the songs that I've written in this corona time and I'll hope to release them soon.
Mio: Even while we shape our works, it's good to think about various things together and work together as a team. For each idea, we work together and add our own flavors and adjustment to it.
Miyuki: Yes, yes. Getting ideas from a different perspective stimulates my sensibilities even more. It's an environment of a friendly competition.
Mio: It will be brushed up with each song.
Miyuki: We don't really have a production time limit at the moment.
Mio: That's right.
Miyuki: So I can put as much into it as I want. Also, I co-wrote the lyrics, but my writing style is different isn't it?
Mio: Ah, yes, that's right.
Miyuki: I don't think I can write lyrics the way Mio writes them.
Mio: And I can't write like Miyuki! So I guess we can both write songs (laugh). But doesn't it also depend also on the "taste" of the song?
Miyuki: That's right.
Mio: It's a collaboration between the two of us, but depending on the song, there's always a question of whose essence is stronger than the other.
Miyuki: There is! I guess it's easy to understand.
Mio: It's a combination of dark and light colors, but also a combination of both…I'd like to create an exquisite sense of balance. Also, we have very different personalities, don't we?
Miyuki: Really? (laugh)
Mio: Aren't we alike?
Miyuki: I don't think we're alike.
Mio: It's like we think alike in parts, but we're different types of humans… so we fit together.
Miyuki: We compensate each other, right?! It's like the pieces of a puzzle are falling into place, just like a combination of weakness and strengths. This is also connected in the Gyakou Believer.
— Please give some last words to your readers.
Miyuki: We've released Gyakkou Believer with our full satisfaction! The essences of each of us are included in this song! So please listen to this song.
Mio: I'm glad that our activities as TaG has been announced and that a release was decided! I'm thanking everyone who was looking forward to it! I'm sure some of you will recognize "us" via this song. I will continue to give my best to deliver the best music! But firstly I hope that you will listen a lot to "Gyakkou believer!"