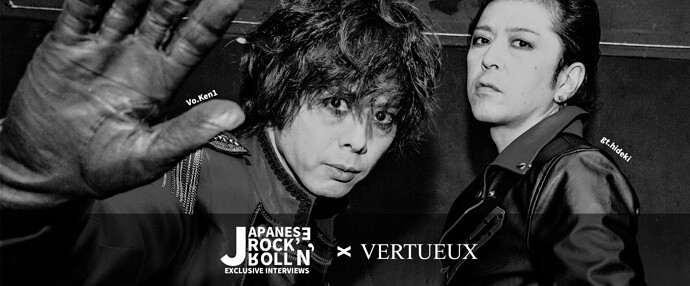 Please let me know if I should interview these guys again.
---
This time an older interview! But still fun to read and to check out!
They can be known from the game and anime DRAMAtical Murder. And a few other titles!
In the interview we are talking about their BEST ALBUM, the album has released and can be bought via CD JAPAN. Also the CD is available in a lot of Japanese National stores so any proxy can get it for you :D~ I do recommend to get it!
Two older albums can be also purchased via itunes!
Read on JROCKNROLL
Before the debut of VERTUEUX Vocalist Ken1 already had been active as the vocalist of Valentine D.C and Guitarist HIDEKI has been active as the guitarist of De-LAX.

VERTUEUX formed as a duo in 2009, through the music production of the game maker NITROPLUS. The name VERTUEUX is a French word and means "grace from heaven (honesty)". Since the start, VERTUEUX has worked honestly on a number of game and anime songs. VERTUEUX has released three full albums, which includes a number of games and anime opening and ending songs.

Since 2018 on every one-man show, a new song has been played. In 2019 VERTUEUX released a mini album (Amid the Noise) with just 4 songs. Even after 2020, both are still blessed with their talents which were given from heaven. Their talent is poured into ROCK'N'ROLL and they continue to release new works and playing LIVE gigs.

Member: Vo. Ken1 & Gt. HIDEKI

LIVE Support Member:
BASS: 西山史晃 (Fumiaki Nishiyama)(氷室京介(Kyosuke Himuro) Support・ROGUE)
DRUM: Moh(RYDERS)
Key: E.O.E(Key)zizz studio
---
Please tell us why you decided to start a band together? Also please introduce each member.
hideki: Back then, I was commissioned by a producer of a game company (Nitroplus (now conteride)) to provide music for a game, and that was the beginning of our unit "ken1 & hideki".
Members
ken1(vo)Valentine D.C.
hideki(gu)ex.de-lax
LIVE SUPPORT
西山史晃(ba) (Fumiaki Nishiyama)(氷室京介(Kyosuke Himuro) Support・ROGUE)
Moh(dr)RYDERS
E.O.E(Key)zizz studio
What inspired you all to start making music? Why did you want to become a bandman?
Hideki: When I was 10 years old, I saw the movie (American Graffiti) on TV. The next day I bought a guitar and started a band.
ken1: Punk, ROCK'N'ROLL, heavy metal, hard rock, a lot of things influenced my youth in the 80's. Actually I really wanted to be a guitarist, but while forming my first band, everybody told me, "You're a good-looking guy, so be the vocalist". "So I am a good-looking guy huh?" I was scared of doing it, yet I took my place as a vocalist. It even surprised myself that I could sing so well.
What is the concept of VERTUEUX? Also what is the meaning of this concept? Also how would you describe VERTUEUX's music style?
hideki: The concept of VERTUEUX is made up of three types of Qi's (Spirit, patience and motivation)
I believe that these three Qi's are the blessings of God and I hope that we can approach everyone through live's and recordings.
VERTUEUX music style?

old rock style? (laughs)
How did you relate your costumes, photography, and cover arts to the VERTUEUX band concept?
hideki: Last year, VERTUEUX celebrated its 10th anniversary …
Since then the color concept was red and black. . .
I don't remember who suggested it. ( ノД`)シクシク…
This May, you will release your best album. First of all, How many tracks will this album have?
hideki: We are currently selecting songs … It will maybe be about 15 to 16 songs
(Maybe the release will be postponed due to the influence of the Corona virus)
Does this Best album have a concept?
hideki: Last year VERTUEUX celebrated its 10th anniversary, so this best album will let you follow the footsteps of the last 10 years!
Why did you decide to release a best album?
hideki: Anyway, I wanted to make a catalog-like collection of songs, so that a wide range of people can listen to it. Because we reached our 10th anniversary, it felt as if it's necessary that we need a VERTUEUX introduction album.
Your fans could choose their favorite songs for this best album. Have these choices surprised you?
hideki: It was it was it was!!! I was really surprised! It felt like as I was wearing my socks upside down (laughs)
Last year you released a mini album, "amid the noise". First of all, what is the meaning of the title, "amid the noise"?
Ken1: The new song which we played each live has the word "the" in the middle like this「○○ the △△」. Also the mini-album includes all those new songs.
Therefore I considered the album title the same way. Because it's rather a noisy work, I've chosen this title, because I want you to feel that sense drifting in our music.
Why did you decide to choose only 4 songs for this release?
Hideki: This album is the climax of a project that we launched in 2018. Each time we played a live we played a new song and those songs we have put together on this mini album.
What makes the songs on the mini album so special?
hideki: Actually it was very special, because these 4 songs were created while performing them live, unlike our past productions. Before a song got recorded as soon we created a demo song, so it was new for me this time.
The melody of the songs on [amid the noise] fits Ken1-san's voice perfectly. How do you compose a song which will fit the vocalist voice in an amazing way?
hideki: I'm thinking of a melody with ken1's voice in my mind. If…… he sings it it becomes… all ken1!
The track, "Beyond The Flame," is a catchy heavy rock song, with a nice guitar solo. How did you compose this song?
hideki : This album became a natural feeling, because we were conscious of making all the songs to play on lives.
The track, "Over The Rainbow," is catchy and has a heavy upbeating groove that one can easily imagine the audience dancing and singing along to. How did you compose this song? Could you tell us a little bit more about the meaning of the lyrics?
hideki: Regarding the songs, I was concerned about variations in the rhythms.
Every time I play a live (Ah! I want to do a song with this kind of rhythm!)
I made it in a way that I notice it every time I play live.
ken1: All of my lyrics tend to be dark. So, this time I wrote with the intention of cheering on someone and directed it to myself.
No matter how old you are, no matter what your situation is, don't give up on things you'll never forget.
https://www.youtube.com/watch?v=iq6No4_gE_I
The track, "Across the door" is a soft beautiful ballad rock song, a song to though your heart. How did you compose this song?
Hideki: The album needed a ballad song, so we needed to create one, because a ballad song would impress the audience 100%.
The track, "Through The Light" Is a powerful rock song with a bit of anime pop feeling, a really nice upbeat powerful catchy rock song! How did you compose this song and is there a message inside the lyrics?
ken1: The lyrics were supposed to be punk, however my outward rebellion heart was lesser than when I was young.After all the song is about, that your mind is in a place which you cannot understand and that you are getting the courage to run away from your own miserable self.
Do the "amid the noise" songs relate to each other in some way?
hideki: As for the image, I came up with songs with a mixed sense of urban decadence, chaos x hope and courage, songs who all match the sound of VERTUEUX.
Were there any parts of this mini album which were difficult to write, or did they come naturally? Is there anything you're especially proud of with these songs?
hideki: The production of the mini-album went all.
Anyway it's an album which was born at live gigs, 120% pure VERTUEUX, without any lie!!
What's your inspiration for writing lyrics and songs?
hideki: Regarding the songs, ken1's voice & performance !!
ken1: Everything you see and hear in your life.
While composing songs, is there something you keep in your mind? Such as creating songs which are fun to play at a concert?
hideki: joy, anger, grief and pleasure
How do you create a song also what makes a song a good song? What kind of song do you strive for when composing?
hideki: When a song will touch my own heart… while keeping my own heart honest.
That's how you know if a song will be good.
What makes a song a good anime track?
hideki: We try to match game and animation songs with the screenwriter's image.
Which song is the hardest song to play?
hideki: The ballads have to be played carefully, so I pay most attention to those.
How does Ken1 keep his voice healthy? Ken1 really has a powerful singing style, strong voice!
ken1: Fortunately, my throat is strong. I've never taken any particular care of it.
My voice is raw, so I consider my voice that comes out on the day, will be the best voice.
Have you ever played any VERTUEUX songs acoustically?
hideki: Yes!! back then at VERTUEUX talk event.
What does "rock music" mean to you?
hideki: To release your own spirit!!!
ken1: I still don't understand what ROCK is.
hideki: Huh?!!!
What's the most fun thing about touring around Japan?
hideki: The delicious local food and liquor of the countryside!!
Ken1: Of course the food!
Is there anything you have learned from all those years being a musician?
ken1: Surprised to think about it, but I didn't learn anything!
hideki: Huh? For real?!!!
What's the most difficult part of being in a band?
hideki: To keep the band and the fans satisfied.
ken1: To retire.
hideki: That's understandable.
As an artist, if there was one thing you want fans to remember (some words of wisdom), what would it be?
ken1: Nothing has changed since the 20s. "Once in a lifetime.
hideki: Nothing changed since I saw the movie (Forrest Gump). "Once in a lifetime.
And as last, your message to your fans!
ken1: Big thanks to those who always support VERTUEUX, best regards also in the future!
hideki: always thank you for your support !! The best album will surely satisfies everyone ! By all means! Please listen to it! Hope to see you at our lives!