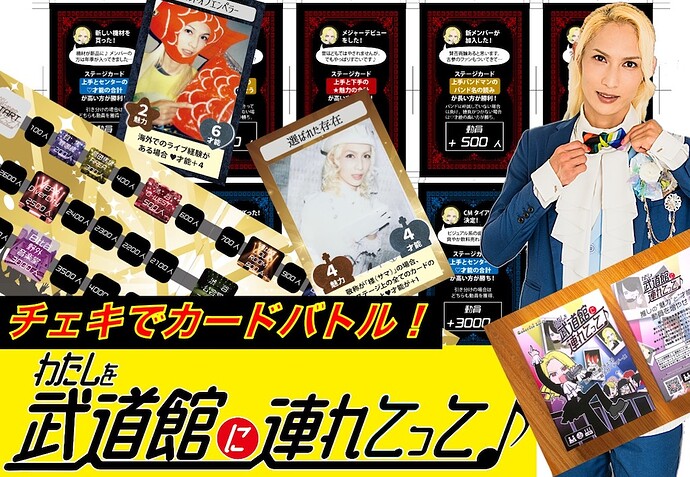 Source: https://vif-music.com/2022/10/18/yurasama-6/
Set to release in November, Yura's innovative card battler aims to gamify cheki collecting.
Cheki will fulfill various conditions needed to earn your band live attendees. As the number of attendees increases, the player will progess through popular livehouses until they reach 10,000- thus netting a Budokan gig.

You do not have to have a cheki collection to play. The game comes with stock cards displaying fan art of fictional bands for beginners to use.

The game board is compact and on average takes 20 minutes to play 1 game, allowing fans to play before and after live shows
All I have to say is…how did no one think of this sooner?
チェキでカードバトルができるゲーム!
「私を武道館に連れてって♪」
を考案したのでクラファンします♪(10/27まで)

推し活を楽しんで手にした無数のチェキ…それらを使って友達と遊べます♪
V系の世界観で作ったゲームなので絶対楽しめます♪
ご支援よろしくお願いします♪https://t.co/HVOG4II7rA pic.twitter.com/FvKDOggvy3

— YURAサマ\たけし (@YURAsamaTakeshi) October 9, 2022