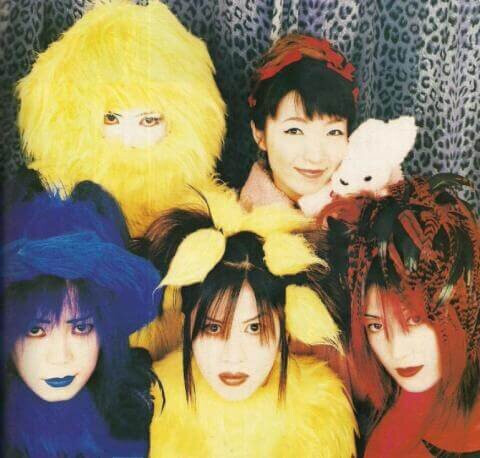 So ever since I started exploring indie Vkei bands from the late 90's/early 2000's, pleur was always a band that interested me. Their look is probably one of the most interesting and creative things I've ever seen since I've gotten into visual kei, and that is certainly saying something. However, when I first discovered them, there were only a few songs of theirs that I could find. After not looking at pleur for a while, I finally found a live performance from pleur, and I have several questions.
I'll start with what I know. According to vk.gy, pleur was formed in 1999 after Da'vid shito:aL (Da'vidノ使徒:aL) disbanded.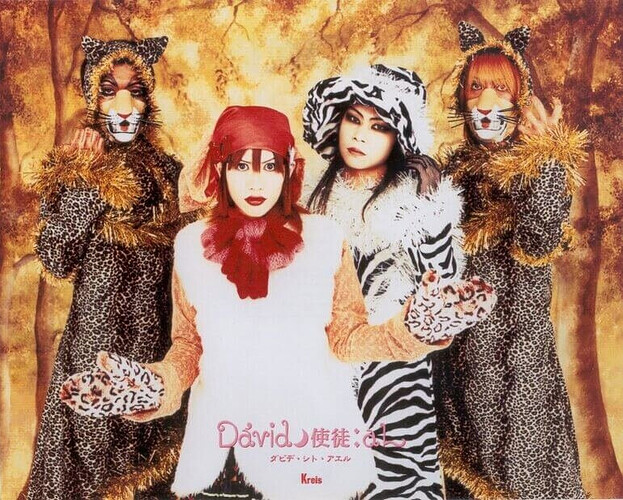 Da'vid shito:aL
After this nightmare fuel disbanded, several members of Da'vid formed pleur. Pleur consisted of -F- on Vocals (the one in the front wearing yellow), Reeno on Guitar (I honestly don't even know which one Reeno is), Kuruto on Bass (The one who looks like a reject from that really weird kids show Boohbah), and Kyon on Drums (the one in pink, and the only female member of the band). In 1999, they released a single and an album, both called La premieré porte, and were featured on the compilation album Kreis 1999. The group disbanded in June of 2000, and released one final single in October of the same year. That's all I know about pleur. Now here's what I'm confused about.
First of all, both the live video and image show two guitarists, but the only guitarist listed is Reeno. Which one is Reeno? And who's the other guitarist? vk.gy isn't the only one who did this, the Visual Kei Fandom wiki also only has one guitarist listed. I'd usually assume it's a support musician, but usually support musicians don't have a very unique look on stage, and they aren't used in promotional photos for the band.
Secondly, there is one former member listed on vk.gy. That would be Noble, who used to play bass for Pleur. I'm really confused about if Noble or Kuruto are in the picture and live video. This band only lasted for a year, so I'm not really sure how long both Noble and Kuruto were in the band. Since the band only seemed to have one look, I'm assuming that maybe Noble got tired one day and said, "I'm not putting this shit on. I'm an artist, not a fluff ball", but I don't know how true that is.
Finally, vk.gy says that the band had a performer named Lupee. Who is that? What is that? Is that the rabbit puppet next to Kyon? Is it one of the guitarists in the band? If so, that's stupid. Why would you do that? What is this? What are you doing? What even is pleur?!
In conclusion, Visual Kei is…weird, man. I'm not looking for any answers to my questions. I just wanted to vent and talk about a very unique and short-lived band that we seem to have very little information about.