I was requested by @Aferni to review a band called ゼツ (Zetu). They were billed to me as a short-lived band that was a mix of AvelCain and old DEZERT. A cursory look on vk.gy indicates that this band got into a bad accident around 2019 but bounced back for a bit before disbanding. The two releases that I will review are この音源を聞いたら呪われます + この音源を聞いたら死にます。and a preview is linked below.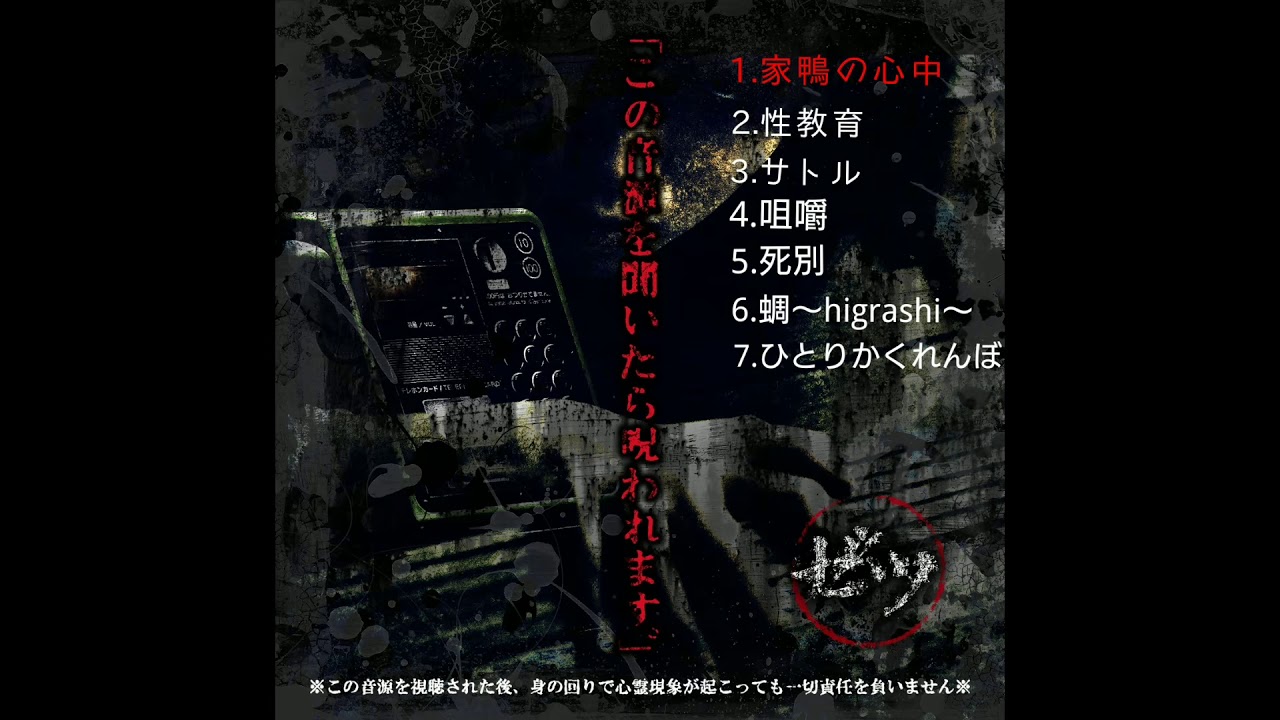 Let's be clear about one thing: I have only listened to bits of AvelCain but I like what I heard. I like old DEZERT and feel ambivalent about new DEZERT. I do not like this, and it begins and ends with the vocalist Satoru-kun (さとるくん). He does a mixture of three things that I will put into very broad buckets:
Clean singing which is serviceable, if a bit flat at times.
Death voice. Don't want to call them growls because they aren't deep enough for me.
Menhera mumbling.
The last term is something I just created to describe what I heard about 55% of the time (5 out of 9 tracks). It became very clear that Zetu's schtick was playing on mental illness and insanity with the tried and true bag of tricks. Menhera mumbling are the piano accents for a chilling atmosphere, the little girl group vocals or maybe a lone voice sounding extra sinister, or then Satoru-kun mumbling or talking into the mic. I swear that this man does the most to avoid singing during the chorus, which I can't help but interpret as an inability to compose enough interesting vocal melodies to fill a mini-album of seven songs. I can only remember one track out of the nine where he sings during both the verse and chorus.
His singing is okay but it's not the technique I want to focus on. It's the sequence of notes he chooses to fill up the sixteen bars the rest of the band lays down for him. I've heard shakier vocalists shoot for and miss ambitious vocal melodies that I still enjoy because I see where they were going with it. There wasn't a single song where the vocal melody interested me enough to fiddle with my guitar and try to learn it. He barely sings.
It's a damn shame because the rest of the music is alright, if a little simple at times! It's nothing but drop chords mixed with the occasional broken arpeggio or fancy guitar fill. I'd enjoy it a bit more if the vocalist was switched with someone a bit more expressive. I feel this is the opposite situation of an unrelated visual band named Suzaku (朱) who had pretty good vocal melodies and absolutely uninteresting instrumentals. I also don't recall hearing a ballad, either. That's not the end of the world because an uninteresting ballad can tank a release, but it just goes to show the limited range these guys were working with.
That's why I don't think it's mean to say that I'm glad they disbanded. It became very clear to me on my third listen that this band set out to achieve everything they wanted to do. They put themselves into a corner they couldn't compose their way out of. It reminds me of coming up with trade-off mix concepts actually - something can sound great in theory but then absolutely devilish to create a mix to. I'm not sure how far they could have stretched this angle before it got tiring, so it's probably good they went out on top (relatively) instead of stagnating into irrelevancy.
I wonder if the other bands of the other members went on to do something. I'd check out the bassist's future projects. He laid down some funky riffs on the last track of the mini.
Sorry if I disappointed anyone who was really into this band, but if DEZERT x Avelcain sounds up your alley don't take my word for it and check them out.