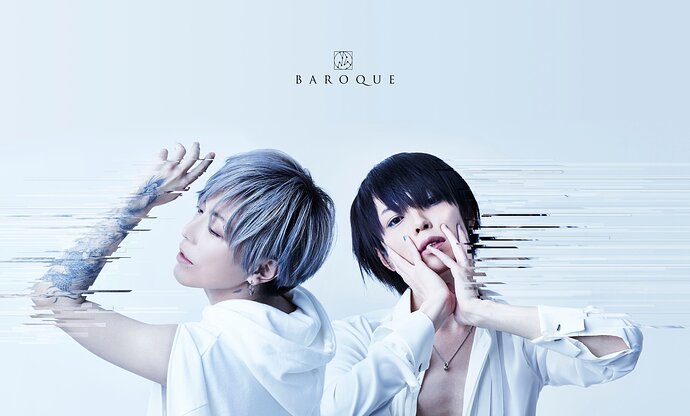 Members
Ryo (怜) – vocals
Kei (圭) – guitar
Takamatsu Hirofumi (高松浩史) - support bass
Former members
Akira (晃) – guitar
Bansaku (万作) - bass
KENZO - support drums
Yuji (祐二) - drums
SHUNTARO KADO (かどしゅんたろう) - support drums
NARU (ナル) - drums
Discography
Mini Albums

• Tokyo Stripper (東京ストリッパー, January 12, 2002)
Albums

• sug life (September 9, 2004)
• Non-Fiction (ノンフィクション, April 3, 2013)
• PLANETARY SECRET (May 27, 2015)
• PUER ET PUELLA (July 30, 2019)
• SIN DIVISION (January 28, 2020)
Compilation Albums

• Brq 2001-2004 (December 12, 2004)
• Complete Collection 2001-2004 (April 3, 2013)
Singles

• "Sukebe Boy" (スケベボウイ, August 7, 2002)
• "Caramel Drops" (キャラメルドロップス, November 29, 2002)
• "Chaplin" (February 5, 2003)
• "Gakidou" (我伐道, July 24, 2003)
• "ila." (April 7, 2004)
• "Gariron" (ガリロン, April 21, 2004)
• "Nutty a Hermit" (July 28, 2004)
• "Rinzen Identity" (凛然アイデンティティ, January 4, 2012)
• "Monodrama" (モノドラマ, January 4, 2012)
• "Teeny-Tiny Star" (January 4, 2012)
• "Zaza Ori Ame" (ザザ降り雨, June 20, 2012)
• "Mellow Hollow" (メロウホロウ, July 18, 2012)
• "Kizuna" (キズナ, December 12, 2012)
• "Tatoeba Kimi to Boku" (たとえば君と僕, January 23, 2013)
• "GIRL" (October 26, 2016)
• "An Eternity" (July 24, 2018)
• "Flower of Romance" (July 24, 2018)
• "You" (December 25, 2018)
• "Stay" (April 25, 2020)
DVD/Blu Ray

• Anakuro Film (あなくろフィルム, August 12, 2001)
• Kamen Final (絶交KAMEN Final, April 3, 2003)
• Brq DVD (December 15, 2004)
• Clip Collection (March 23, 2005)
• Last Live Mumirai No Future (Last Live 無未来 NO FUTURE, March 23, 2005)
• Re:First Live In Future 2012.1.6 Live at Tokyo Dome City Hall (April 25, 2012)
• Tour Baroque Phenomenon 0th Phenomenon 2013.03.03 (TOUR バロック現象 第0現象 2013.03.03, May 15, 2013)
• Tour Baroque Phenomenon 4th Phenomenon (TOUR バロック現象 第4現象, May 15, 2013)
• BAROQUE SPECIAL FILMING LIVE FOR BLU-RAY DISC OPEN YOUR WORLD AND SEE THE LIGHT [Moon] (August 12, 2015)
• ALL OF THE LOVE, ALL OF THE DREAM -LIVE at DIFFER ARIAKE 2017.12.25- (June 26, 2018)
• LIVE Blu-ray & DVD VISIONS OF // PEP LIVE at NIHONBASHI MITSUI HALL 2019.04.30- (December 25, 2019)
Music Videos

• ila
• Gariron (ガリロン)
• bug/Nutty a Hermit
• Monodrama
• CELEBRATE
• DREAMSCAPE
• GIRL
• FLOWER OF ROMANCE
• AN ETERNITY
• YOU
• STARRY BOY
• PUER ET PUELLA
• STAY
Official Site: http://pigmy.jp/
Ryo and Kei were also part of Clarity (disbanded) and kannivalism (on indefinite hiatus).
On September 8th 2020, BAROQUE released an announcement on Twitter and their official website that they are going into indefinite hiatus, with Ryo (怜) having announced the decision that he is retiring from musical activities.
Full statement from Ryo (JP)

2020.9.8
有限会社サンクレイド
BAROQUE 怜 圭 ・ スタッフ一同

― 怜からのコメント ―

応援してくれている皆様、まずはツアー中止および、僕自身の音楽活動の引退に関しまして、急な発表となり本当にごめんなさい。
どこまで真意を伝えるべきなのか、今日まで悩んだのですが、現在の心境も含め、文章で伝えさせていただきたいと思います。長くなってしまうと思いますが、どうかお付き合いください。

まずは誤解されたくはない事なので先に書きますが、メンバー同士の確執では全くないです。
引退のこと、ツアーのこと、未来のことを二人で話し合い、たどり着いた答えです。

現状、コロナという目に見えないウイルスの問題も大きくなっていき、ライブ延期も続く中、改めて未来へのビジョンを今一度、自分達はどうしていきたいのか?圭と話す時間がありました。

僕個人として、現状の度重なる延期、前にも後ろにも行けない八方塞がりな感覚が大きくなり、心身共に疲れを感じていること、元々体が強くないこともあり、体調、年齢の限界も感じていることを正直に伝え、胸の内を圭に伝えました。

二人体制になり3枚のアルバムを作ろうと走り続け、
今できる最大限でSTAYを届けることもでき、個人的にやりきった気持ちもあります。

これが今の心境で、たどり着いた答えです。

圭と話し合いを行ったのが6月で、

その後、引退するとしても、このツアーをやり遂げてからと話し合いをしていたのですが、
8月になり、コロナの現状も踏まえると、全公演を平等な形で行うことが難しくなり、全ての公演をここで中止した方が良いんではないか?と圭とスタッフに相談しました。

実際、さらなる先延ばしをしても、楽しみにライブを待ってくれているファンに対してもメンバーに対しても大変身勝手で申し訳ないと思いますが、自分自身ベストな状態でステージに上がることは難しくなるとも感じていて、引退を心に決めている以上、これ以上長く時間を空けることは良くないと思うと、正直に伝えました。

今一度、圭ともどうすれば良いか、お互いの考えを話し合い、ツアーの延期ではなく中止し、僕自身の引退も含め、このタイミングで伝えた方が良いんではないかとなりました。

発表の中で無期活動休止と伝えましたが、理由としては、解散して終わりを示すよりも、
作り上げた音楽、共に歩いた道、悲しみではなく、楽曲の持つ本来のパワーが今後も皆と共に生き続けられたら良いなと思いました。

そして無期活動休止後、この先のライブスケジュールはないですが、

怜がまた歌いたいと思ったら言ってくれ、その時はいつだってやるからな、と言ってくれた圭の気持ちを本当に嬉しく思っています。

皆には伝わると信じていますが、もちろん長い歴史の中で、紆余曲折あり、ぶつかることもありましたが、僕ら二人の絆は計り知れないほど大きいです。それほど、僕自身にとっても、彼の音楽、人としても愛し、尊敬しています。

圭ソロのライブ間際の発表となることが、僕個人的には不甲斐ない形ですが、
どうか、どうか、その日はその日しかない音を楽しんでください、良い日になることを願っています。

親愛なるファンのみんなへ、今一度BAROQUE、この作品たちをみんなに預けさせてください。

そして、kannivalismの生み出した楽曲たちも皆の日々と共に生き続けてくれたら嬉しいです。

数十年間にわたる音楽活動、ここまで走り続けることが出来たのも、僕達を信じ、応援し支えてくれたファンの皆が居てくたからこその日々でした。本当に、言葉では収まりきらないぐらい、心の底から、ありがとうと思っています。

最後まで我儘ばかり、ごめんなさい。

自分自身、今の今までバンドに全てをかけて進んできたので、まだこの先のことは考えていません。
今後、ステージへ上ることはありませんが、ゆっくりと、また笑えるよう、新たな道を歩んでいきたいと思います。

今まで本当にありがとうございました。

BAROQUE 怜
Full statement from Ryo (Google translate)

-Comment from Ryo -
To everyone who supports me, first of all, I'm really sorry for the sudden announcement regarding the cancellation of the tour and my own retirement from music activities.

Until today, I was worried about how much I should convey my true intentions, but I would like to convey it in writing, including my current state of mind. I know it's going to be long, but please bear with me.

First of all, I don't want to be misunderstood, so I'll write it first, but it's not a feud between the members at all.
This is the answer we arrived at after discussing retirement, tours, and the future.

Currently, the problem of the invisible virus called corona is getting bigger, and live performances are being postponed. I had time to talk with Kei.

As for me personally, the repeated postponements of the current situation, the feeling that I can't go forward or backward, I feel tired both physically and mentally, and my body is not strong to begin with. I honestly told Kei what I was feeling.

As a two-person team, we continued to run to make three albums, and we were able to deliver STAY to the maximum extent possible, and I personally feel like I've done it.

This is the answer I've arrived at in my current state of mind.

I had a discussion with Kei in June, and after that, even if I had to retire, I was discussing that I would have to complete this tour after completing this tour. I consulted with Kei and the staff that it would be difficult to do it in an equal way, so maybe it would be better to stop all the performances here.

In fact, even if I postpone it further, I feel sorry for the fans who are looking forward to the live and the members who are looking forward to the live, but I can't stand on stage in my best condition. I felt that it would be difficult, and I honestly told him that since I was determined to retire, I didn't think it would be good for me to take more time off.

Once again, I talked with Kei about what we should do, and decided that it would be better to cancel the tour rather than postpone it, and tell him about my own retirement at this time.

In the announcement, it was announced that they would be on an indefinite hiatus, but the reason is that rather than disbanding and showing the end, the music they created, the path they walked together, not the sadness, but the original power of the song will continue to be with everyone. I thought it would be nice if I could continue to live.

And after the indefinite hiatus, we don't have any future live schedules, but if Ryo wants to sing again, let me know, and I'm really happy that Kei said, "I'll always do it then."

I believe it will be passed on to everyone, but of course there have been twists and turns and bumps in our long history, but the bond between us is immeasurably great. That's how much I love and respect him for myself, for his music, and as a person.

For me personally, it's disappointing that Kei's solo will be announced just before the concert, but
please, please enjoy the sound that can only be heard on that day, I hope it will be a good day.

To all my dear fans, once again BAROQUE, let me entrust these works to everyone.

And I would be happy if the songs created by kannivalism continue to live with everyone's days.

The reason why we have been able to continue our music activities for decades is because of the fans who believed in us, supported us, and supported us every day. Thank you from the bottom of my heart, more than words can express.

I'm sorry for being selfish until the end.

I myself have put everything into the band so far, so I haven't thought about the future yet.
From now on, I will not go on stage, but I would like to walk a new path slowly so that I can laugh again.

Thank you very much until now.

Baroque Ryo
Kei now has a solo career.
Please feel free to use this space to discuss their career, your favourite albums, side-projects, etc.