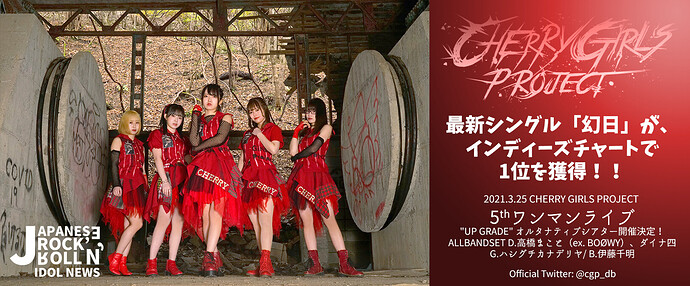 CHERRY GIRLS PROJECT's latest single "Genjitsu" ranked 21st on the weekly chart. Now it ranked 1st on the indies chart! The members said about the result 「Just "a" rank higher is not our goal」.
Their single "Genjitsu" which was released in February ranked 3rd on the daily charts and ranked 21st on the weekly charts. In the weekly indie chart the single won the 1st place! It seems that CHERRY GIRLS PROJECT is steadily gaining support.
Through the release period CHERRY GIRLS PROJECT played various shows and the members continued to convey their audience to support them by buying the single by performing an amazing show, which resulted in the first place position of the indie charts. Of course, also thanks to Hajime Okano who produced the music with amazing high quality is a reason for this success. And above that, all five members always passionately conveyed their serious attitude, which touched the hearts of many people and led to their continued support.
As a huge thank you, all members wrote their feelings about gaining such big support.
Imu Kokonose: First of all, it was the first time for us to hold a full-scale release event as CHERRY GIRLS PROJECT, and to be honest, we ourselves were confused and sometimes caused trouble for everyone. Certainly, I think it has led to a very confident result for the current CHERRY GIRLS PROJECT. We went through the release event period with the sole intention of "definitely becoming No. 1," so to be honest, it's frustrating to be ranked No. 3 on the first daily chart and No. 21 on the weekly list. If I had another chance, I'd like to erase the number 20 from the weekly and make it only number 1. I'm not so happy as I am frustrated that I'll definitely make use of this experience in the next release! So that's why I was really happy to get the number one spot on the indie charts on a weekly basis. I am so grateful to all of you because I know that this is the result of your support. But I don't need the number 20 for the 21st place in the weekly ranking (lol).
Rio Mashio: Not only us, but the entire team, including the management, worked together as one to "definitely get the result", and we could feel the spirit or atmosphere of the team, which led to this result.I remember the experience of the release event in Osaka very well. At our very first release event in Osaka, the number of fans was almost the same as the number of Cherry members. It made me feel very frustrated, to keep moving on so I used that frustration as motivation and worked hard on my future campaign activities. Soon after we held a second release event in Osaka, and so many people came to the event that it overflowed the space of the place. I felt really moved by it. The weekly ranking of No. 21 is a great achievement that was achieved with the enthusiasm of everyone who supports the CHERRY GIRLS PROJECT! But I also wanted to win first place, and if there is another chance, I definitely want to win first place.
Mirai Mashidori: At the beginning of the release events, some venues felt very empty, they were not filled with many people who came to watch us, but later when we played at the same place again many many people came to watch us, chair seats were filled and even people had to stand! That's why I feel frustrated that I didn't reach our 1st place goal. However we all did everything we could at that time so that there isn't any place for frustration, we will continue to improve on what we learned from this experience and what we have reflected on as we move on to the next! Rather, if I ever get the chance to do another release event "SOLD OUT" will be my first goal. I wish to keep going with CHERRY GIRLS PROJECT and to keep showing great results!
Hitomi Yuuki: If you look at the current environment of CHERRY GIRLS PROJECT (Corona disaster), I think the daily ranking of No.3 and the weekly ranking of No.21 are better than expected. But from the very beginning, our goal has been to take first place, and we have been doing everything we can to achieve that goal. It's because we were only conscious of "becoming number one" that we all feel frustrated with this result. However a happy memory does remain. It made me very happy that people who just happened to peek into our release event, fell in love with us, and that they not only came to our lives after the event but that they also continued to support us from that moment. Because I've experienced so much happiness and support from everyone, I do feel a strong sense of "frustration". So I will definitely use my frustration to put a smile on my own face too next time.
Maimu Kurume: I think the reason why all the members are highly motivated is because they feel that the current CHERRY GIRLS PROJECT receive a good response. Our single "Genjitsu", has a great song quality which is a dramatic improvement of our works, also we can feel that the management is really putting in their effort too to get us to the top. That's why all the members have a strong sense of "I want to sell!". If you just vaguely say, "I want to sell" or "I'm working hard" anyone can do such a thing. We have to show it in our words, actions, and attitudes, and if we can do that, people who come in contact with CHERRY GIRLS PROJECT will naturally feel it, and more people will become our fans isn't it? In fact, the more strongly the members themselves demonstrate their feelings, the more support and mobilization they receive. Of course, sometimes we get depressed when we feel anxious. In the past, when one person fell into this state, everyone was pulled in and became anxious as well. However, in the current CHERRY GIRLS PROJECT, we try to inspire the depressed members by showing them how the other members are trying harder, instead of falling together when one of them feels troubled. I think that the strongest teamwork now is born because there are only such members.
With strong confidence, the members of CHERRY GIRLS PROJECT have been challenging the current music scene by entering numerous rock festivals as if they were crossing the border one after another. On March 25, they will be performing their fifth solo show "UPGRADE" at Alternative Theater. On this day, they will be performing with the strongest musicians in the band, including Kanaderiya Hashiguchi (G), Chiaki Ito (B), Makoto Takahashi (ex BOØWY:Dr), and Dainashi (Dr). I can't wait to see how dignified they will be on that day.
CHERRY GIRLS PROJECT
Official webiste:cherrygirlsproject.com/
Official twitter:@cgp_db
Official YouTube:Channel
MEMBER来瞳舞夢: @maimu_db
九瀬いむ: @iMu_cgp
優希瞳: @hitomi_cgp
真志取みらい: @mirai_cgp
真汐里緒: @mrio_cgp
幻日MV