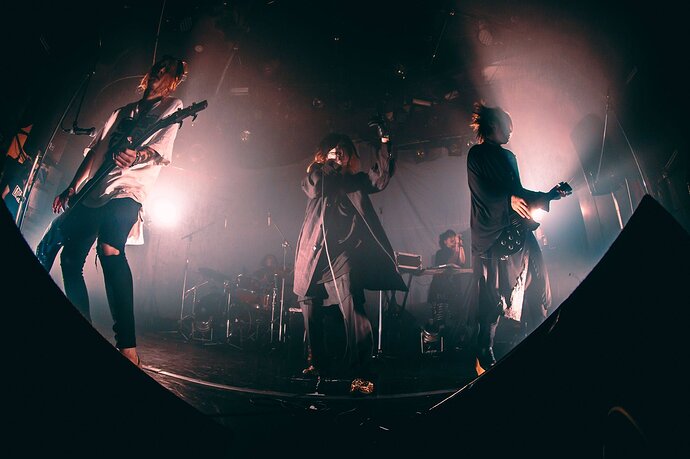 Biography


Starting as a session band with Satoshi, Közi, Atsushi and Fuchi where they played staples from Joy Division, Bauhaus and Killing Joke. Satoshi then left before ryo who was in 9 goats blackout came on as vocalist and they added Rieu, YUGAMI and Masaaki and started making original music. The versatility of ryo as a vocalist, looking at how he's in three different groups at once and they each sound different speaks volumes and no two DÄLLE songs are the same. I think it's a testament to the diversity of the band with ATSUSHI coming from a punk background, ryo Nagoya-kei, Közi being a VK OG and Rieu the more obscure avant-garde noise genre. DÄLLE have released pretty consistently and just seem to be getting better which is a testament to the work ethic of the band.


ATSUSHI who at one point changed his name to just XXX in the credits seemingly does everything from managing the group to running the store, designing merchandise, the photobooks they give out at shows and the CD and DVD cases and booklets etc. I know they're not everyone's cup of tea and are the definition of underground, but they deserve their own thread and admiration in my humble opinion. Their releases and merch may be quite the hassle to get a hold of, but when you do it's worth it. Their blending of everything from a more visual kei sound to post-hardcore and even elements of rap and dark wave is unlike anything i have seen in the visual scene. Anyway, this is my for lack of a better term, love note to a great band who are and probably will always be underground and not well known, but that's part of the fun and the mystique.



This is a revised version of the Artist Page I made in 2018 for the group. All hail the nu-goth post punk edge lords who don't even have a website and require everyone to wear all black at their shows!
Lineup

Vo.RYO (ex.GOATS BLACK OUT) (HOLLOWGRAM , TAG , KEEL , DÄLLE)
Gt.Közi (ex.Too many to name) ( ZIZ , E//+Z , DÄLLE , VAMQUET , XA-VAT)
Ba.XXXATSUSHI
(Support) Masaaki Mizuno (SPANK PAGE , MO'SOME TONEBENDER)
Discography

Albums
LOLA ZAZA CROWLEY (2021-03-21)
DESTROYED TO DISCORD, AND THE REASON (2018.12.15)
ambivalence to violenta (2016.12.16)

Singles
NOT IN LOVE. EP (2018.02.23)
呼吸するLOST AND LUST. EP (2017.11.10)
SUMMER SADNESS. EP (2017.08.18)
終わる世界とさよならヘヴンリー. EP (2017.06.24)
Metaphor. EP (2017.02.11)
ICU. EP (2016.10.18)
Loyalty. EP (2016.07.29)
witch craft pictures. EP (2016.05.06)
Asphalt EP (2016-02-25)
FENCES EP (2015-12-02)

Omnibus
A ALL END SEX 2nd Press (2017.06.17)
A ALL END SEX (2017.04.09)

Video
crucifiction (2021.08.16)
DEPRESSED PICTURES (2019.07.19)
this iz beautiful brutalizm 2016 - 2018 (2018.08.10)
START AND TWO YEARS (2017.12.08)
TWOZEROONESEVENAUGUSTONEEIGHTSHIBUYAVUENOSTOKYODEATHDISCONUMBERTEN (2017.10.13)
CUT AND LOST (2017.08.18)