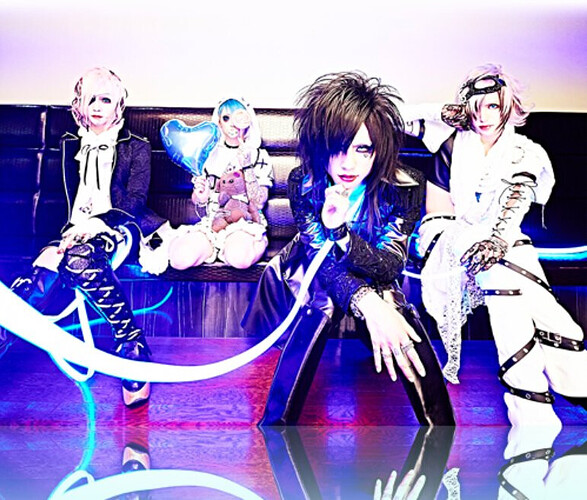 Band: Mejibray
Active: 2011-2017 (on hiatus)
Vocals: 綴 (Tsuzuku)
Guitar: MiA
Bass: 恋一 (Koichi)
Drums: メト (Meto)
Former Members:
Guitar: 一風 (Ippu) (2011)
 Where Are They Now?

Tsuzuku and Koichi:
After terminating their contracts with their parent company Forum, which caused Mejibray to go on hiatus, Tsuzuku (now going by the name Genki) and Koichi went on to form 8P-SB, a non-visual pop duo, in 2018. The group released 7 singles and 3 albums, before pausing their activities in 2020.
Since then, Koichi has started a new solo project under the name TREMBLING BAMBI. Besides starting a solo project as Genki Takebuchi, Tsuzuku started a new band named SpeIL on October 31st. The project has a darker, more visual tone to it, and contrasts his last project. He released the song SPELL on December 15th.
MiA & Meto:
Since leaving Mejibray, MiA has participated in several different projects. After Mejibray paused activities, MiA acted as a supporting guitarist for Asagi (of D's) solo project. MiA also acted as the guitarist for a one-time supergroup called Project.Revive, where he performed along with Mao of Sadie, SARSHI of NANA, Tomoyuki Enya of 12012, and JIN of SCREW. Today, MiA is the guitarist for a group called Sugar or Dry, which was formed by the YouTuber MONSTERsJOHN TV.
Meto is currently a support drummer for the band LIRAIZO, where he performs under the name Yoshitarou (由太郎).
What do you all think of Mejibray? I personally think they're alright. I think a lot of their songs end up sounding pretty similar, but I still do like a fair amount of their songs. I don't think that Mejibray will reunite anytime soon, but if they ever do, it will be interesting to see what direction they go in.