Thank you

You gotta admit that Buck-Tick's Love Letter is the most brilliant Japanese song in English. I didn't even know Razzmatazz was actually a word before looking it up. Always thought Atsushi invented it

Quite memorable and unexpectedly logical piece of text. If anybody needs proof read spoiler.
Summary

I'm Just A Simple madness man
Is this what you wanted
Is this what you wanted
Is this what you wanted
Is this what you wanted
Is this what you wanted
Is this what you wanted
Is this what you wanted
I wanna live Just like a bitch
Now what's your desire
You wanna make Just like the rich
Now what's your desire
Are you honest are you honest
Is this what you wanted
Are you honest are you honest
I need you
I wanna be like your dog
Upside down and make a god
You wanna be like our gog
Upside down for razz ma tazz
Are you honest are you honest
Is this what you wanted
Are you honest are you honest
I need you
Save my soul please
Show me the way
Save my soul please
Oh Please. Please take this love letter
I'm Just A Simple madness man
Oh Please. Please take this love letter
I'm Just A Simple madness man
Gotta love the first verse
Been a really long time since I walked in the capitol and when I went there today it became a melting pot of a city, many refugees came down here as I saw syrians trying to lure their brethren in a parlor with fortune telling or massages calling out "Arabi?" "Somali?" and I got furious on how useless and pathetic these girls were even in their line of work, I mean if you're going to indulge in crime at least put a little creativity I used to sing in Chinese to get their attention. My disgust reflected as even in a country like Turkey I was looked with contempt. Its not how I remember it at all. Thanks to its locale and economic state its became a haven to ride out winter as Europe is falling in an ice age with no way to heat up their homes without burning through their money, Ukrainians, balkans, pakis all came down and up here in hopes of atleast living through the other day. It reminded me when I first started wandering around. How I above all those people made it through? Worse part is I couldn't help I saw kids who run away from their countries maybe in a false hope or maybe they got tricked when someone told them that "this countries great" you know freedom and all. All I saw was how far people fell down.
I saw so many colourful people there, especially my peers oh how beautiful and divergent they are. Made me so envious. But I know better. It is tempting but I just let go. Maybe it's my vicarious nature and for some reason it's easier to approach people older then me you know, or them approaching me. Whenever I try to talk to a teen they either act like an asshole or too cool to respond. And by teen I mean age 20 and up
Someone I care about told me that people like these talk behind my back and the reason they don't want to be around me is because "we're scared of him" as always I retorted to this but you know they're right. They know nothing of loneliness, living in the streets trying to make it through the other day. All they know is trying to find inspiration in front of their computers or watching shitty movies about "street knowledge" I don't want to be that person who says "we got nothing in common" but we seriously don't, if you were at least a decent human fucking being it would've trumped everything but not even a normal courtesy. Now that I think about it they're right it's better to live in idle then to make the mistakes I made and I don't blame them. She was venting to me exactly this and all I said was I don't blame them, only reason I got into this was because I only had one bullet, and what do I have to go back for? I had a good job but I still gave it away in hopes that maybe there could be someone who is worth it all and there is I'm just too impatient, it would make me so happy if there was someone my age thinking about others and acts when the time comes, because I'm only one person and there's only so much one person can do despite how many people tell me my merits but I don't blame them these times are so dangerous and crazy my head is spinning. I hate that word always came down to me. I was honest about everything though most of the time I told I wanted to enjoy this as long as it lasted and I was honest when I told her exactly why I was in this country and like most what got me vilified in every place I told her the same and she just fell silent. I had no idea relationships started like this. I guess this is what girls intuition is, someone who knows everything about me without me even saying a word. It made me so happy that people like these are out there even if it is seldom to find, honest hearts, but there is only one person who told me the truth I've always known.
I want to refer to a simple question Shane asked Rick in the first season of the walking dead the pilot episode
"what is the difference between men and woman?"
It starts with Shane joking around with his bad ex girlfriend who lits up every light in the house and eventually moves up with Rick telling about his wife "we didn't have a good day" Shane says "do you express your thoughts, emotions?" Rick replies with "it's like whenever I do she acts like she didn't even want to hear it in the first place" Shane reassures him "that's just shit couples go through man you know? Like a phase" rick says "do you know the last thing she said before I left this morning?" I wonder if you even care about us at all" she said that right in front of our son" and ends it on this note "the difference between men and woman? I would never say anything that cruel to her especially in front of Carl imagine going to school with that in your head"
Just come across this video and i've never realize how much important Bassist were.
Makes me wonder why there's a Duo band, I can get solo project because you do everything by yourself and don't have to worry about other members "Interfereing with your vision" and just being paid to play, but why Duo? why not Trio? it doesn't help that alot duo band were just Vocal and Guitar, and for some bands clealy had bass and drum audible but they just decide not to find fulltime member who might shared the same vision for the project. To me having a 2-man band is just as makes sense as starting a VTuber company with 5 streamers instead of 3, or 4, or even 6 (There's not alot of games wit built in 5man multiplayer and you can did 3-on-3 match with 6 members)
IMO the drummer is the most important aspect of any band. Take any track you are familiar with and play it back in your head, but cut the drums out. It has the most noticeable impact.
As a musician, the drummer is who you are listening for to keep time. Without a drummer or even a metronome, keeping a consistent BPM throughout a track can be tricky. The bassist is the second most important person in the band. The bassist keeps the rhythm going. It's the kind of element that you don't notice when everything is done right, but you definitely notice when it's not there. What I once thought was all the guitar was really the bassist playing the root notes to the melody providing that foundation. Guitars alone occupy a range one octave higher and sound very thin without any type of support. They do all the flashy shit, but you're tapping your foot to the bassist, if not the rhythm guitarist.
My guitar teacher even said that when the drummer hits a rim shot and I hit a lick, I make him sound good.
You can honestly get away with one guitarist, bassist, drummer + a backing track if all we're talking about is replicating the music in a live setting. And when you think of those requirements as "roles" where more than one person can cover a role, it can work out in some projects where one person plays multiple roles.
Well, about the drummer thing, It's obvious really. it's probably one of the reasons why so many drummers were bandleader. Well other than having good pr skills and usually, the most talkative and often more confident than the rest of the bandmembers. (Sometimes they gets too overly confident see: Yoshiki)
And honestly, about the backing track thing I was one of those elitist/purist who thinks backing tracks will never be cool, but then again, alot of these Duo, and often drumless/bassless band use electronics and manipulator as a subsitute (Which work for some, not for others)
Got my roots done girlllllsssss!!!
Giving indies Shinya for the end of autumn + winter.
I'd like to go lighter for the spring and summer but I'll see how I'm feeling then xoxo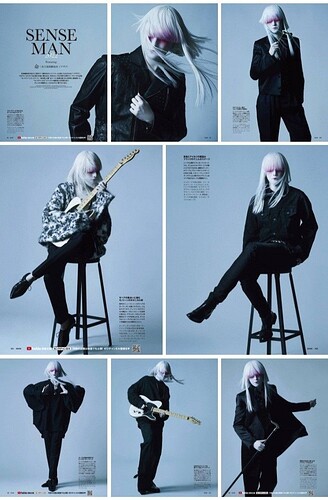 This is probably the first time I discover a band solely from Pinterest. And it's kind of peculiar but I have to say that from the snippets I've heard on the vocalists Instagram they sound pretty good at least. The stylistic kind of reminds me of IX-NINE for some reason crossed with Heilung (the vocalist)
Summary

another Zigzag
Kind of makes me think about BJD dolls.
If "gif" is supposed to pronounced like "gift" without a "t", have I been pronouncing vagina wrong this whole time as well?
You would have to ask Jod and Gesus.
I don't know why but whenever I type I tend to repeat the same words in a sentence and looking back at it now I'm embarrassed. Hmm maybe I don't care about it so I just spew the first thing that comes to mind or worse my mind is a convoluted mess that I can't say one transparent thing.
Whatever good news is I'm bringing someone into the fold, I'm gonna make him a slave to the gospel. He may not like vk or jrock or music for that matter but I will MAKE HIM LEARN to love M̶e̶ it. I mean he hasn't let me down once. Anyway it's good to talk English with someone but when he called me on a voice chat I swear he sounded like dasboschitt, sure he mocks me by saying "Madness, I wanna die" or "Stop talking shit gaysian" or "You're generally an interesting person but you still haven't told me what your work is goddamn troll" - Ohuhuhuhu colour me flattery gets you everywhere, thing is he won't believe me because I don't believe me and it got to a point where I dug up inside of me where I threw everything in a crevasse only to resurface in the most dire of times but since then I feel like a passenger, I get work done but I don't remember any of it, any tools I used, hell I can't even remember names and he calls me "fucking troll" but it would be mean if I told him "Hey I'm gonna go in ielts soon! Do you mind being my Guinea pig for a while?"
I know he senses that I'm forcing myself to speak and always end the conversations on this note "why are you talking with me?" if I told you the only person I've enjoyed talking was my father? And that was only for topics like history and religion even he doesn't believe me what I do and did in Europe and Canada. I'm grateful because as much as my headspace is messy, where nothing is coherent and orderly I can atleast have sympathy for others, I finally understand and want to help but I can't, no matter how close I get there's an infinity separating us, I don't really know who you are, trust? I wouldn't get hurt but I've always wondered why above all else. I had a police friend who had another friend in Canada, Montreal who they served together in the force in Turkey, when I was sent to Canada I had a really hard time because I didn't know English and well people always talked about how peaceful and good natured Canada was but the first month I bought a bike I put in my backyard with someone I was boarding with and it got stolen, a couple weeks later my friend called his other friend whose name was Daniel but I always called him uncle Don, helped me find a home in an apartment complex in mcarthurs Street right beside seers, I would visit him regularly I met with a lady named patty who had been in the same class I've been, it was purely platonic as she literally walked me through everything hell even to this day she still likes my posts from the fields I upload. One day it was Halloween and so patty and I arrange to see what this celebration is she had a daughter from her first husband and well we just talked while we were walking neighborhood to neighbourhood and it suddenly popped ot my mind. "We should visit uncle Don" I mean this was a guy who bought a ps3 just for the guests of the house to play so why wouldn't we? I mean I sat by his bedside when got operated, we had barbecues, he prayed with me in the mosque. I still remember the first thing paddy said "I don't think that's a good idea going unannounced" I know it was a bad idea yet I had a Faint hope and well when we went there it was monotone, afterwards he wouldn't talk with me for 6 months, no emails, no calls, nothing. A man who I waited for a week by his bedside.
No matter how close you get to someone there is an infinity separating you. And this was my experience of the western culture, one night lovers, leaving your family one day never to return. I've tried being normal for a change you know, have a normal job, a normal circle of friends and now that I returned where it all began I feel like all this time I've been evading what I first started out to do.
If you listen closely outside to the darkness late at night you can hear jackals howling


God, this man is such a good yandere, and he's barely even trying.
I would like to live on an island, so distant and secluded, moonlit skies with waves crashing on coral reefs as a lullaby, my acoustic guitar playing my favorite version of ''farewell to nova scotia'' and ''solitary man'', fishing when I want, maybe even make myself a surfboard, it would be great if it was big enough and there was a field to farm in, I don't think I would ever get bored, I always thought wanting peace would come much later in life.
I've been going through a cycle of thinking I was moving and preparing and getting everything ready to be told that something hit a snag, then told that it could be next month or the next three so I can't figure out whether to unpack or not plus there's a sickness going through the house so I've been sick twice this month and it's not even Christmas yet. That being said before I got sick ヴァージュ clicked with me; honestly think it was the MOTHER PV and I'll probably get the DVD next month.
ahhhhhhhhhhhhhhhhhhh ;____;