I have decided to sell huge part of my collection. I bought many items at the venues during my stays in Japan for nearly 10 years.
You can find some great items here.
Any questions regarding listed items (condition, box sets items, obi, price, etc…) or about items not listed here, send me PM.
If you need to see photos of any item , PM.
orders over 20€ I will add a gift
orders over 30€ I will add a two gifts
orders over 50€ I will add three gifts
orders over 70€ I will add four gifts
orders over 90€ I will add five gifts
orders over 110€ I will add six gifts
orders over 140€ I will add six gifts + discount
Shipping worldwide from UK.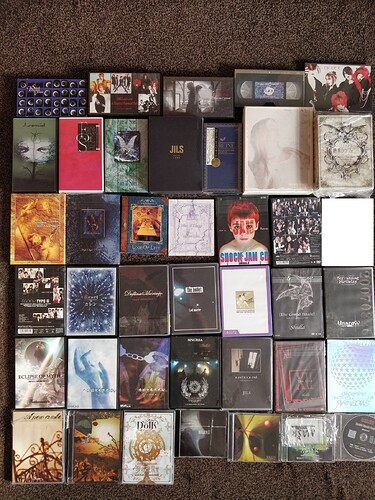 DT
Syndrome - Sonzai Riyuu ~raison d'être~ (+signed) ''avg condition'' 10€
VHS
[SOLD] LAREINE - fiançailles VHS+CD+member card+leaflet 10€
[SOLD] MALICE MIZER - Bel Air~Kuuhaku no Shunkan no Naka de~ Shokai Gentei-ban [Box set VHS+CD] 10€
Eliphas Levi (BOX set) CD, VHS (VT), photobook/poster, etc… 50€
Face of Soleil [1998.7.27] (La'Mule, MIRAGE, CLeiR, Lavender and more…) + (bonus item) 20€
Lamiel - 眼界記 20€
LiFE vol.2 (WITH SEXY, MIRAGE, VASALLA, D'elsquel) 1997.11.16 Nagoya Bottom Line 10€
Soleil Treasure Visions VHS (+bonus item) 20€
[SOLD] LAREINE - Chantons L'amour~Lillie kara no tegami~ 20€
DVD
MASK - 東京ジレンマ 2005.04.04 SHIBUYA O-WEST (+gift - mirror) 20€
Phantasmagoria - ECLIPSE OF MYTH 20€
EGOISM TYPE:III (KING, 天照, Silver, AQUA-LEAF, GREAT CONFUSION) 20€
Shulla - The Grand Finale 2005.11.21 Shibuya O-East 20€
the Raid.- MV, Namba Hatch live 2018.7.27, +off shot 5€
Unsraw - Screaming Birthday 2007.03.26 Shibuya O-WEST 20€
[SOLD] Alice Nine - Discotheque play like "A" Rainbows -enter & exit- alice nine 20€
Bands Shock Tour Vol.3 [2006.10.04] (天照、七三式、Scar.、TRANSTIC NERVE、IBIZA, everset, RABBIT) 15€
PANIC☆ch - Zenkokutaikai Sanbonsen ~FREESTYLE~ [CD+DVD] 10€
Panic Channel - 全国大会三本戦~いやがらせ~ [CD+DVD] 10€
group photo signed by all members as a bonus gift when buy two ''Panic'' cd's
Deflina Ma'riage - Last Infection [2007.3.25] Live concert 15€
Dolly LIVE DVD『夢の最果て-Yume no saihate-』 Shibuya O-EAST 2012.12.21 25€
EGOIZ V.A @Kawasaki CLUB CITTA [2006.05] (ジゴロ / Dollis / emmuree / はばかる。! / マルル / シリウス! / Deuorl! / auncia / XYXX! / 般若 / PROJECT EDEN!) 15€
JILS - LAST DAYS DVD BOX(完全予約限定生産BOX) 40€
Sugar - A new cradle DVD (ONLINE SHOP-VERSION) 15€
SINCREA「LIVE 2010 "PANDORA 21"」(+band photoset) 20€
Shulla - 『XII[twelve] The Live』 DVD + postcards+ sticker 15€
CD
アンド (AND) - BLAZE 10€
ArucarD - Curry Hajime Mashita 5€
Bergerac - 夢に舞う、君の姿 初回限定盤 Type A (+band photoset) 10€
美流沙女 (BIRUSHANA) - Mayoigo 10€
BLOOD - 2nd PERIOD DX 20€
BRANDROID - Phase Clover (+Dr.Shinsaku cheki) 10€
CLOSE - So Close 10€ (avg condition)
DAMY - Chilled TYPE-B (new sealed) 10€
DAMY - TOMODACHIgokko TYPE-A (new sealed) 10€
-two DVD as a bonus gift when you buy two DAMY cd's-
Doremidan - ドレミ團 ポケットにがらくたを 5€
Eins:Vier - Kaze ni Akogarete 10€
[enver] brain - MOLDER HEROINE (+member photo) 10€
Gekijou Tenor - 劇情テノール 1st Full Album (+cheki Ba.銀河翼) 15€
[SOLD] GLAY - The Frustrated CD+DVD 10€
HAKU (ex.Izabel Varosa) - color of a season 10€
HAKU (ex.Izabel Varosa) - color of a season III 10€
Homura - 断章 Vision 1. 5€
JILS - Lover's name (Limited edition) CD+DVD 10€
JILS - True Songs DX Edition CD+DVD 10€
〔Kreis〕 - D≒SIRE, Blue, Ize 10€
KARAKURI - I LOVE YOU 2nd Press 10€
katharsis - リデルの涙 10€
KAUXS - Voice of Mind 10€
Kazoku - Akatsuki Kaijou Gentei-ban(+postcards+ photocard signed by all members) 10€
KISAKI PROJECT feat. Jui - Sunadokei ~Never ending memories~ (+postcard of KISAKI) 10€
LAREINE - BLUE ROMANCE ~Yasashii Hanatachi no Kyousou~ Shokaiban 15€
De-ARK (Delta Ark) - Mayu (+booklet+members cards) 15€
La:frëssia - Splendid World 10€
LiZ - 真夏ノ夜ノ夢 (+member card) 5€
Medical Trance Peach - 5/PEACHese 2nd Press (+band sticker) 10€
MISTRUST - Recall (NEW sealed) 15€
Mrs. Habit (ex.band of Ba.Gou-Gift,GE+IM )- Wonder around 3€
Mëbius - HYSTERIC na Chuudokushou to ROMANTIC na Mousouheki 10€
Mystic Moon - Solitude 2nd Press 10€
No.line - LIFE 1st Full album (NEW sealed) 15€
Overce - First Intention (+band gift card) 10€
Raylia - fallin'rain 10€
レイラ (REIRA) - glass word 10€
SANA - i wish to be loved (NEW sealed) 10€
R'OSE - White Fantasy 15€
S.Q.F - D.D HEAVEN 10€
S.Q.F - PIXIE 10€
S.Q.F - 群青の獣性 -ultramarine animality- (+signed card) 10€
STELLA MARIA - ~cage~ (+photocard of the band signed by all members) 20€
[ON HOLD] Tinker Bell - An Evanescent Peaceful Sleep 10€
the bullet - Last quarter Shokai 1000-mai Gentei-ban [CD+DVD] (New sealed) 15€
[ON HOLD] tradlad - 1st single 「片付けの唄」 (+demo cd+sticker) 10€
[ON HOLD] tradlad - 2nd single 「Structures」 (+demo cd+sticker) 10€
[ON HOLD] tradlad - 1st mini album APPROXIMATION (+demo cd+guitar pick) 15€
[ON HOLD] tradlad - 2nd mini ALBUM 「Bridges」 (+demo cd+sticker) 15€
-tradlad FACE TOWEL as a bonus gift when buy four tradlad cd-
Vivid - Cinderella 10€
Vivid - 星ノ砂 Hoshi no Suna 10€
Vivid - S・O・S 10€
photo of the band as a bonus gift when you buy three Vivid cd
ライカエジソン 2006 SPECIAL HAPPY NEW YEAR DVD [LAREINE, MASK, Plastic Tree, HeaRt, D'AIR, Wizard, 12012 and more…] (+ Plastic Tree members pins+ bonus item) 10€
V.A AFTER TRICK (GARDEN, allure idea, Mist of Rouge) [Limited 1000] 15€
V.A CROSS GATE 2004 ~Neo Locus~ (CD+DVD+postcards) 20€
V.A High Style Paradox Ⅰ (+postcards) 15€
V.A Loop of Life (Limited 5000) 15€
V.A MIND GARDEN Vol.6 15€
V.A High Style Paradox Special ~RARE TRACK COLLECTIONS~ (+photo of 秘密結社コドモA member+bonus item) 15€
V.A Shock Jam CD Editon 3 (ドレミ團・ヴィドール・餞・ホタル・Fatima収 録。) 10€
V.A - 妖幻鏡III (Yougenkyou III) : [ Nezire, NANA, Maekabu Tokage, Marderayla, DEVIL KITTY, Garnet, La'Mule and more…] (+ DEVIL KITTY card) 15€
[V.A] SOLLEN (Presents by CLUB GIO ICHIKAWA) (cannabis, Bang-Doll, Lies and Truth, ATELIER, CHYCKY, VIVE, CHA・O・S, REVIA, SMOKY FLAVOR, nicht) 20€
[V.A] SOLLEN II (Presents by CLUB GIO ICHIKAWA) ( XecsNoin, ケルベロス, Lucy via Cloudy, PROPER669, 危険児, GANEISHA, VIVE, Bang-Doll) 20€
[SOLD] Anli Pollicino - Snow Venus/SLUM JUMP 5€
Angelique - Morning Glory 10€
Angelique - baby's breath (NEW sealed) 10€
photo of the band as a bonus gift when buy two Angelique cd
圭(from baroque) - silk tree. [2CD+DVD / Limited Edition] 20€
Dear Loving - Loose Vision 10€
SHAZNA - Gold Sun and Silver Moon (First Press, comes with special disc "Shazna no Orgel no Oto") 15€
MURASAKI - Live dist demo 3€
Blue Coffe - Live dist. demo 3€
BRANDROID - Demoroid 2.5 - 5€
Gill'e cadith - お茶の間中毒カテゴリィ 10€
Gill'e cadith - 裏乙女絶倫ファイル 10€
GHOST - tsumi to batsu Brand New Capsule XIV 罪と罰 Brand New Capsule (+obi) XIV 15€
Lastier - WILL 3€
SOPHIA - Material [04.14.1999] 10€
紫苑 (Shion) - Fever! 4€
Dolly - Niji-iro no kanaria (Limited Edition) 虹色のカナリア 【初回限定盤】 CD + DVD (+obi) 7€
Vogus Image - Zettareido 絶対零度 15€
[SOLD] Vogus Image - Capsule (2nd Press) カプセル (+obi) 7€
カレン (KALEN) - Reset ~ a revolving lantern ~ Limited 3000 (+member photo) 10€
Lubis Cadir - Rotten Orange 10€
Pashya - 『Best of epilogue』 10€
ClearVeil - The Future of Despair + obi (Type B ) 10€
EINS:VIER - Songs Remains the Same 10€
EINS:VIER - MIND 10€
Lulu - Doku (New+obi) 毒 5€
Lulu - Kusuri (New+obi) 薬 5€
SUZZY&CAROLINE - LOVE∞POWER [full album] 10€
WITH SEXY - Couleurs 15€
The FUZZ - MAZUREK (+obi) (NEW sealed) + (SHUN photoset) 15€
Flyers €0.50
A&D
Amber Gris Last Tour
ANSIA
Apporo Project
Black Cat
Black Gene
Black Swan
Blesscode
Crimson Shiva
Deluhi
Develop Ones Faculties
DIAURA
emmuree 1
emmuree 2
Ensoku
Eremes
E-T
Fest Vainqueur
Fringe
Gossip
GRIEVA
HERO
Jiluka
Jin Machine
Kuroyuritokage
Limited E=
Lin
Magistina Saga
Meteroid
MORAN
Nihilizm
Oboroduki
Pentagon 1
Pentagon 2
Realies
REIGN
Revlez
Scapegoat
Scarlet Valse
Sel'm
Shedia
Shinjuku LOFT 16th Anniversary
Synkyet
TesroA
The Madcao Laughs
Tokami
VAASTU
Vasalla / WITH SEXY
Vivalet
Xaa-Xaa
Yeti
More
Jack MW
Fest Vainqueur
Liraizo
Grieva
Clear
Baletta
Danger Gang
Romio
Romio 2
Cruel Reason
Project Phantasma
Ragend
Faze
Gossip
Gossip 2
Gigamous
Dictave
Girugamesh
Synkyet (folded)
Shiva (folded)
Mediena (folded)
Exist Trace (folded)
Pentagon
Arlequin
Revine
Rhedoric
Devil Kitty
THE VELVE
Dangan No Limit
MeteoroiD
ziggrat
Scarlet Valse
IGGY
dieS
Baby I Love You
Grieva
Gossip
DIAURA
ジャックケイパー (jackcaper)
SIN
SHIVA
Sibilebashir
Balalaika
Shazna
tradlad (sl. folded)
La'veil MizeriA (sl. folded)
DispiNa
D'ER+gari 2016 feat DEZERT
Liraizo
JILUKA
DxGOTCHAROCKA
GIGAMOUS
Sick2
Develop One's Faculties
Kavka
A113
Lilith/Affective Synergy (double sided)
Roub
Nollcrea
Wing Works
the Lotus
Ken with Naughty Stars
MEGAMASSO reunion
cali=gari
Addon:
batsu game
Shellmy
An Cafe
Lolita23q
Aoi (Ayabie)
Ziggrat
Gossip
emmure
Foxpill Cult (sl. folded)
Wing Works
Bull Zeichen 88
DISH (sl folded)
Liraizo
Balalaika
Baby Kingdom
Miztavla
NOW
Munimuni
dieS live
101A
Asylum / dip (sl folded)
Mary Rue
Ippei (ex Feel)