the Reveude -リヴード- will disband after their live at 2021/12/03 at Urawa Narciss.
Sad, I thought they found a good sound with their last single.
They had an impressive guitarist
That sucks… they indeed had an amazing guitarist and so much potential. Their last release was an absolute killer too. What a shame

The latest single "Dear…Pain & Roses" will be released that same day.
Last Single「Dear…Pain&Roses」

Art Design: TERU (Versailles, Jupiter)
TrackList:
1.Dear…Pain&Roses
2.Virginity Blood
3.Dear…Pain&Roses -Instrumental-
4.Virginity Blood -Instrumental-
holy shit this twitter quality ruins it

the Reveude Last Live DVD (3 discs)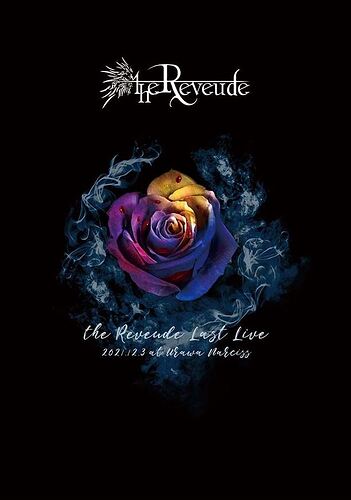 very good live. sad that they are gone.
Where they so unpopular in Japan?
What's really sad is that none of the members' follow-up bands are as good as Reveude were… they had so much potential and combines talent that's just wasted

From what I remember? Yes. They had a very small following.
I wonder why… their music really sounded amazing…