アルルカン (Arlequin) new album (title not yet finalized) will be released at 2023/04
Great! I really enjoyed MONSTER so hopefully this will be right up there, too.
The new album is titled "δυσ-τόπος ~Dystopia~" and will be released on April 5th.
What language is that O-o
Butchered greek, with all the respect
this is basically just Monster all over again
can't they just finally try something again. Like they always did in the past.
I used to really love Arlequin, but I feel with the departure of Tamon and the fact they've not released anything exciting since the 'BLESS' mini album, they should just call it a day. Their music ain't fun anymore and hasn't been for a while.
"δυσ-τόπος ~Dystopia~" will be released in 3 types; limited edition type A is 6500 yen, type B is 9500 yen, and regular edition is 3800 yen
[CD]
手放して掴む零
(+9 new tracks)
[DVD]
limited edition A only: 「手放して掴む零」 MV + 撮影DOCUMENT + 「手放して掴む零」MV -ドローンFPV ver.-
limited edition B only: 2022.11.26アルルカン 9th ANNIVERSARY TOUR「決意を前に」FINAL at 豊洲PIT LIVE映像
both limited editions will also come in digitray and sleeve case specs, & a 16pg pamphlet is also included in type A
It feels like midway through 2020 someone took my favorite boys and replaced them with puppets. Competent, well put together, but soulless. Damn, I'm sad now.
I miss Aki chans side poofs or whatever that hairstyle was called.
They've clearly gone a more accessible direction and are probably trying to get on a major label. They should be an anisong band at this point and I'm honestly shocked they haven't done an opening or ending yet but キズ have.

Funny how there's no drummer in the video as well.
Huh, it's Greek for dystopia. They were clever with this since this post is literally the second result on Google so I could see it showing up in the top when jrocknews, jame, and vk.gy pick ot up.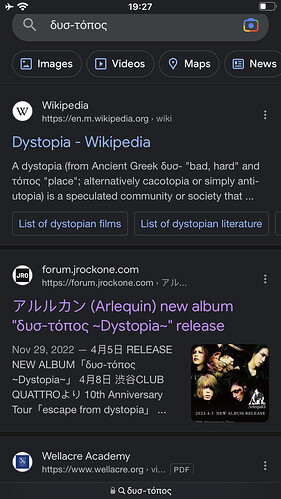 Okay so far so good pretty basic stuff but I hope to see screams in this one at least there's no random talking in the middle of the song. I can actually enjoy the song lol