Damn, I feel they did this exact song like 5 or 6 times.
the problem is that I really enjoy this mess, I'm tottaly fine if they only do Blvck clones from now on
I have the feeling that they will announce an album soon.
I seems like the KUMARI days are long gone.
i am exhausted of this type of song, hope they do something new soon
OVERKILL was a bit unlistenable but I can follow this one.
I like it, even though it sounds, not sure how to put it, a bit "dense". When it comes to electro stuff, I prefer the cleaner sound of Elice in slow motion, for example. I also hope they do something different in the future, it's been a bunch of similar songs in a row now.
IMO the MV is better than the previous two singles, because you get a better look at the band members in this one.
It's only their 3rd song in this style, they have way more songs in their previous styles so I hope they stick with this one for a while it's been their best imo and I'm pretty curious about what an "electro goth" ballad would sound like.
Also that ending was sick, felt like combining Dexcore with Nocturnal Bloodlust.
I dunno if it's just me but i kinda feel like they are pushing this style quite a lot for a few songs and think this is probably going to be how they sound for a while.
This song made me feel old. Barely made it thru a minute of it.
It's more deathcore style. I'm also a diehard deathcore fan, it was the first genre that got me into metal, so I'm biased, but Venom is a good one imo. Not quite like Lorna Shore good, but good.
Btw. Ricko just appeared on the Mahone YouTube channel to review (and fangirl) the song, he is definitely super hyped about their new style. They might stick to it for future releases.
I have respect for the work the band puts in, but I'd prefer if they would not completely change their original style. Do a mixture, don't completely stop the old style stuff.
Here's the review.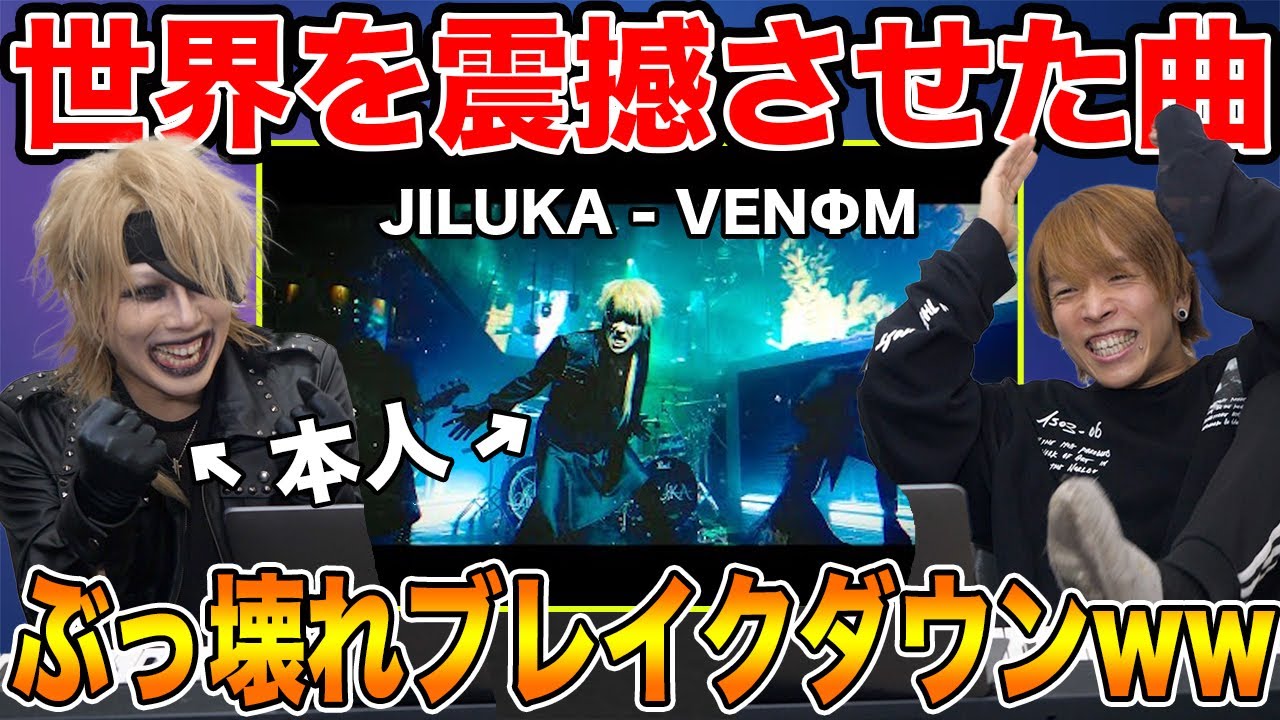 I like their old stuff too but I remember it took me a while to get into them because I felt like there were plenty of bands with that sound (or close to it) but imo did it better like CodeRebirth, Deluhi, the:Ø, Delacroix, Ghose, Scythe & Irony Seek the Xenoblood/Hollow Shade, etc… They didn't really stick out to me until I heard Ajna -SgVer-, which was when I felt like they had a sound I didn't really hear from other bands and these singles just feel like an evolution of that sound. I'd be surprised if they ever went back to their old sound, but I do feel like at some point they'll release something much less chaotic to focus more on their melodic side like they had done with Xtopia.
I hope so. If I want to listen to deathcore, Jiluka isn't my go-to, and likely never will be.
I'm not referring to Ricko's vocal abilities to scream (although it's also nowhere close to what many seasoned deathcore vocalists put out), but all in all Venom is just not tickling all the deathcore spots, while trying to go to that direction. It's a weird incomplete feeling, they need changes to way more elements to get there. It's still good though. I still like it.
I think it would be a shame if they would completely part with their old style permanently. I listened to them for the last 6 years for them being Jiluka, not for being deathcore.
Agree 100% with this, particularly the last statement. The end of this song felt like a poor imitation of To The Hellfire's final breakdown.
Yeah im with you on this one. They had a unique style before and that's what got me into them and now it just seems like a different band and just not so enthusiastic for them these days. Same with Kizu, amazing start then just got a lot less interesting from Kuroi Ame. Swear all the vkei bands I have really enjoyed in more recent years either disbanded or changed style and became whack. Haha.
They need those reactiontuber bucks
Is this a new type of "generic" music in the genre? I felt I have heard that song so many times before.
such a good song imo !! i like their old stuff too but i love how heavy they are- ive seen a lot of people reacting to this + overkill and they always say 'its too much' but like … that's the whole point, + its their style, let them do the songs they wanna do yk ? just annoys me when youtubers act like that- maybe im biased cuz i like the band though ;pp
I like the band too. And the EGM style (as Jiluka call it) is not bad.
My issue is that if they completely go into this direction, they likely won't make much music in the previous style, which I also like, and only few other bands were/are producing.
To me that change is not a good trade, given how many non-Japanese deathcore and metalcore bands pumping out more than enough great music in that style already, (with vocalists more suited for the style too imo).
Btw. I'm possibly not alone thinking this… Have you seen some of the live footage from Jiluka's latest gig? The crowd was dead at the second part of the breakdown.
From comparison, I'm seeing Lorna Shore live in a few weeks, and I regularly go to deathcore and metalcore gigs here in Europe, the vibe is always brutal, the pit is on fire.
Bottom line is, I'm not even sure that the current audience of Jiluka appears to be as receptive to this style as I have observed here. I might be wrong of course.