Zeke Deux 3-continuous limited singles will be released.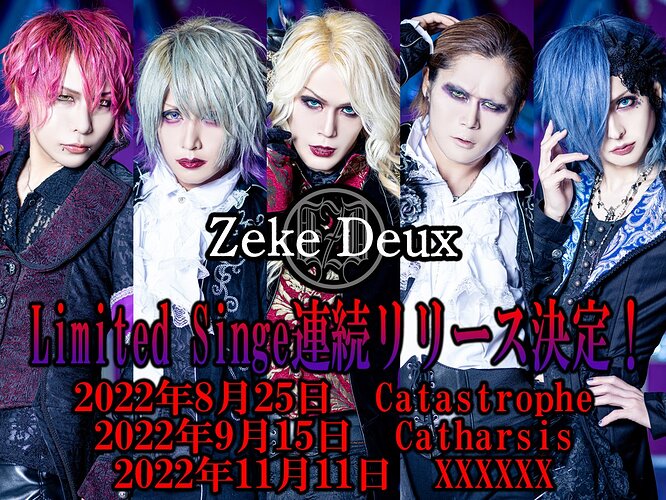 Catastrophe · 2022/08/25
Catharsis · 2022/09/15
XXXXXX · 2022/11/11
"Catastrophe" will be 2000 yen and will be limited to 100 copies. It will also be released as a CD-R; pretty sure all this will apply to the other singles as well.
[tracklist]
Catastrophe
Crimson Moon
offtopic but they were recently invited to perform at an event in Switzerland on 10/8! very cool
Is it safe to say that all three of these will be on the new mini-album in January?
I'm willing to be that'll be the case!
I've actually been holding off on listening to some of these tracks so that they'll be a fresh experience when the time comes, haha.
Same. Haven't listened to anything other than covers and Advance to Glory.
All of the A sides were included just not the B-sides. Guess they were worth getting after all until the full album comes out lol. Anyway the mini will be out the 22nd of February and they're only making 300 copies.
Lux en Athena

1.Destination of Zeke
2.Lux en Athena
3.Catastrophe
4.Feel like the Wind
5.Catharsis
6.Sapphire
7.Lucifer
there's a bass heavy zeke deux track that doesn't seem to be on advance to glory and i can't hear it in the samples from lux en athena. it was playing during kakeru's twitcast today. wtf was this marvel i need to know
edit: nevermind it's majestic defiance above lmao, but omfg i stannnnnn