Could be anything from novels, to manga, and whatever in between. Currently for my weeb hobbies ive been binge reading a couple series since ive had the past week off.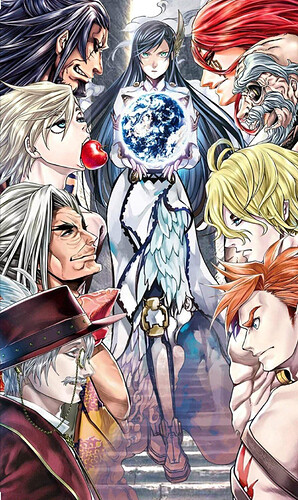 First on my list is Record of Ragnarok (Shuumatsu no Valkyrie). Heard about this one since it recently got an announced to be getting an anime so i decided to check out the manga to see what im getting into. tl;dr humanity is hopeless so the gods of the world are debating whether or not to wipe out the entire planet until someone intervenes and suggests to give humanity a chance. Leads to a 1v1 styled tournament between gods and notable people of history (i dont want to give away who shows up but kind of think like the Fate franchise if youre familiar.) it sounds ridiculous and thats because it is but its honestly one of the most entertaining, over the top, battle stories ive read yet.
next notable series ive been reading is jagaaaaaaaaaaaaaaaaaaan. our main boy is tired of his job, tired of his relationship but then one day alien frogs start raining from the sky and start infecting humans and morphing them into "fractured humans". very parasyte-esque but alot edgier and more morbid but still hella fun read.
Other manga im reading but im too lazy to write out descriptions for are Jujutsu kaisen (its amazing but you should really watch the anime), blue lock (pretty insane sports manga), dr. stone, gleipnir, and black butler.
as for more western stuff Ive been reading the Red Rising novels. some crazy ass scifi dystopia shit, good shit if you liked stories like Hunger Games or Game of Thrones but imo its way better than both (note i havent read book 5 of the series yet)